The shift from keyword search to a 
queryless
 way to get information has arrived
Google Discover is an AI-driven content recommendation tool included with the Google Search app. Here is what we learned from the data available in the Google Search Console.
Google introduced Discover in 2017 and it claims that there are already 800M active users consuming content using this new application. A few days back Google added in the Google Search Console statistical data on the traffic generated by Discover. This is meant to help webmasters, and publishers in general, understand what content is ranking best on this new platform and how it might be different from the content ranking on Google Search.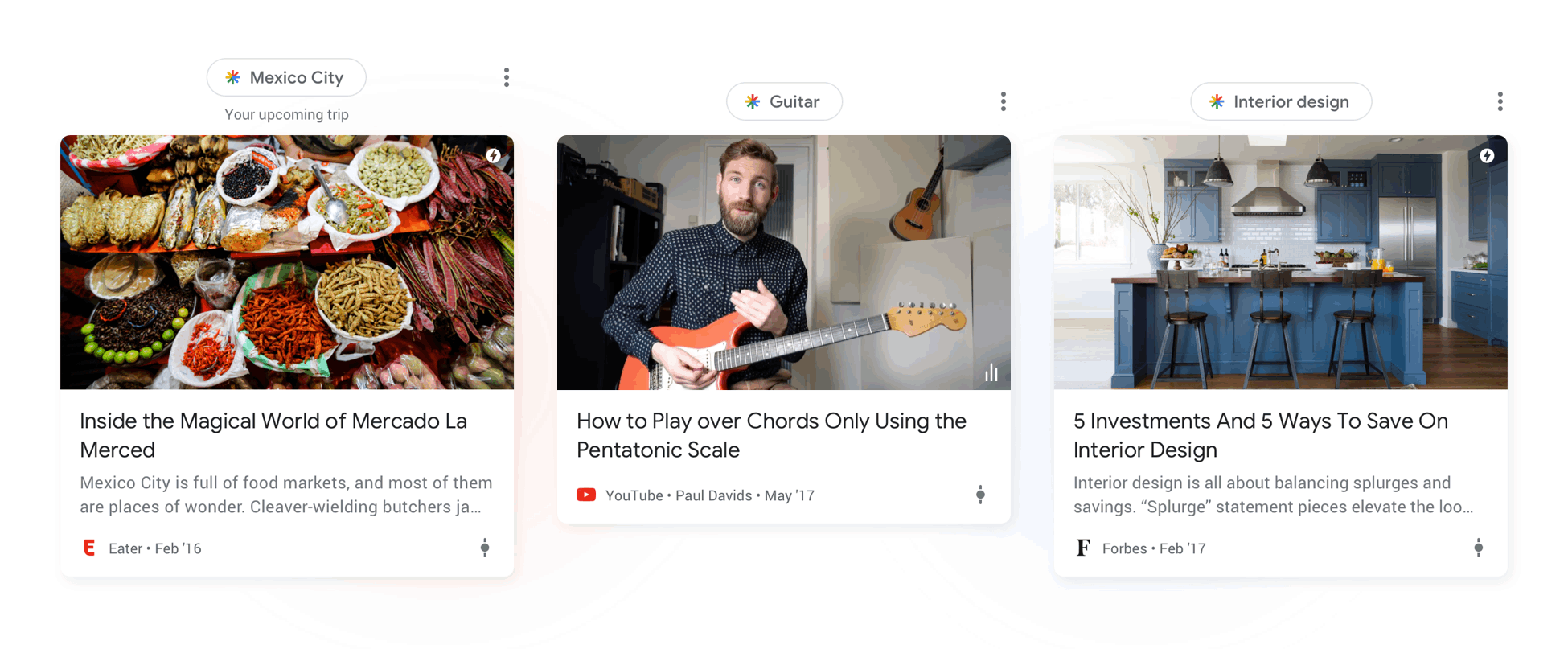 What was very shocking for me to see, on some of the large websites we work for with our SEO management service, is that between 25% and 42% of the total number of organic clicks are already generated by this new recommendation tool. I did expect Discover to drive a significant amount of organic traffic but I totally underestimated its true potentials.
In Google's AI-first approach, organic traffic is no longer solely dependent on queries typed by users in the search bar.
This has a tremendous impact on both content publishers, business owners and the SEO industry as a whole.
Machine learning is working behind the scenes to harvest data about users' behaviors, to learn from this data and to suggest what is relevant for them at a specific point in time and space.
Let's have a look at how Google explains how Discover works.
From www.blog.google
[…] We've taken our existing
Knowledge Graph
—which understands connections between people, places, things and facts about them—and added a new layer, called the
Topic Layer
, engineered to deeply understand a topic space and how interests can develop over time as familiarity and expertise grow. The Topic Layer is built by analyzing all the content that exists on the web for a given topic and develops hundreds and thousands of subtopics. For these subtopics, we can identify the most relevant articles and videos—the ones that have shown themselves to be evergreen and continually useful, as well as fresh content on the topic. We then look at patterns to understand how these subtopics relate to each other, so we can more intelligently surface the type of content you might want to explore next.
Embrace Semantics and publish data that can help machines be trained.
Once again, the data that we produce, sustains and nurture this entire process. Here is an overview of the contextual data, besides the Knowledge Graph and the Topic Layer that Google uses to train the system:
Location settings: Some updates in Discover are shown based on your home location. If your home location isn't available, Google may use your work location or your device's current location.
To learn more about Google's work on query prediction, I would suggest you read an article by Bill Slawski titled "How Google Might Predict Query Intent Using Contextual Histories".

What I learned by analyzing the data in GSC
This research is limited to the data gathered from three websites only, while the sample was small few patterns emerged:
Google tends to distribute content between Google Search and Google Discover (the highest overlap I found was 13.5% – these are pages that, since Discover data has been collected on GSC, have received traffic from both channels)
Pages in Discover have not the highest engagement in terms of bounce rate or average time on page when compared to all other pages on a website. They are relevant for a specific intent and well-curated but I didn't see any correlation with social metrics.
Traffic seems to work with a 48-hours or 72-hours spike as already seen for the top stories.
To optimize your content for Google Discover, here is what you should do.
1. Make sure you have an entity in the Google Knowledge Graph or an account on Google My Business
Entities in the Google Knowledge Graph need to be created in order for Discover to be able to recognize them.
For business owners
Either your business, or product, is already in the Google Knowledge Graph or it is not. If it is not, there are no chances that the content you are writing about for your company or product will appear in Discover (unless this content is bound to other broader topics). I am able to read articles about WordLift in my Discover stream since WordLift has an entity in the Google Knowledge Graph. From the configuration screenshot above we can actually see there are indeed more entities when I search for "WordLift":
one related to Google My Business (WordLift Software Company in Rome is the label we use on GMB),
one from the Google Knowledge Graph (WordLift Company)
one presumably about the product (without any tagline)
one about myself as CEO of the company
So, get into the graph and make sure to curate your presence on Google My Business. Very interestingly we can see the relationship between myself and WordLift is such that when looking for WordLift, Google shows also Andrea Volpini as a potential topic of interest.
2. Focus on high-quality content and a great user experience
It is good also to remember that the quality in terms of both the content you write (alignment with Google's content quality policies) and the user experience on your website is essential. A website that loads on a mobile connection in 10 seconds or more is not going to be featured in Discover. A clickbait article, with more ads than content, is not going to be featured in Discover. An article written by copying other websites and patently infringing copyrights laws is not likely to be featured in Discovery.

3. Be relevant and write content that truly helps people by responding to their specific information need
Recommendations tools like Discover only succeed when they are capable of enticing the user to click on the suggested content. To do so effectively they need to work with content designed to answer a specific request. Let's see a few examples "I am interested in SEO" (entity "Search Engine Optimization"), or "I want to learn more about business models" (entity "Business Model").
The more we can match the intent of the user, in a specific context (or micro-moment if you like), the more we are likely to be chosen by a recommendation tool like Discover.

4. Always use an appealing hi-res image and a great title
Images play a very important role in Google's card-based UI as well as in Discover. Whether you are presenting a cookie recipe or an article, the image you chose will be presented to the user and will play its role in enticing the click. Besides the editorial quality of the image I also suggest you follow the AMP requirements for images (the smallest side of the featured image should be at least 1.200 px). You also want to make sure Google has the rights to display your high-quality images and this can be done either using AMP or by by filling out this form to express your interest in Google's opt-in program. Similarly, a good title, much like in the traditional SERP is super helpful in driving the clicks.
5. Organize your content semantically
Much like Google does, using tools like WordLift, you can organize content with semantic networks and entities. This allows you to: a) help Google (and other search engines) gather more data about "your" entities b) organize your content the same way Google does (and therefore measure its performance by looking at topics and not pages and keywords) c) train our own ML models to help you make better decisions for your business.
Let me give you a few examples. If I provide, let's say the information about our company, and the industry we work for using entities that Google can crawl. Google's AI will be able to connect content related to our business with people interested in "startups", "seo" and "artificial intelligence". Machine learning, as we usually say, is hungry for data and semantically rich data is what platforms like Discover use to learn how to be relevant.
If I look at the traffic I generate on my website, not only in terms of pages and keywords but using entities (as we do with our new search rankings dashboard or the Google Analytics integration) I can quickly see what content is relevant for a given topic and improve it.
Here below a list of pages, we have annotated with the entity "Artificial Intelligence". Are these pages relevant for someone interested in AI? Can we do a better job in helping these people learn more about this topic?
Learn more about Google Discover – Questions & Answers
Following in this article, I have a list of questions that I have answered in these past days as data from Discover was made available in GSC. I hope you'll find it useful too.
How does Discover work from the end-user perspective?
The suggestions in Discover are entity-based. Google groups content that believes relevant using entities in its Knowledge Graph (i.e. "WordLift", "Andrea Volpini", "Business" or "Search Engine Optimization"). Entities are called topics. The content-based user filtering algorithm behind Discover can be configured from a menu in the application ("Customize Discover") and fine-tuned over time by providing direct feedback on the recommended content in the form of "Yes, I want more of this", "No, I am not interested". Using Reinforcement Learning (a specific branch of Machine Learning) and Neural Matching (different ways of understanding what the content is about) the algorithm is capable of creating a personalized feed of information from the web. New topics can be followed by clicking on the "+" sign.
Topics are organized in a hierarchy of categories and subcategories (such as "Sport", "Technology"). Read more here on how to customize Google Discover.
How can I access Discover?
On Android, in most devices, accessing Discover is as simple as swiping, from the home screen to the right.
Is Google Discover available only in the US?
No, Google Discover is already available worldwide and in multiple languages and it is part of the core search experience on all Android devices and on any iOS devices with the Google Search app installed. Discover is also available in Google Chrome.
Do I have to be on Google News to be featured in Discover?
No, Google Discover uses also content that is not published on Google News. It is more likely that a news site will appear on Google Discover due to the amount of content published every day and the different topics that a news site usually covers.
Is evergreen content eligible for Discover or only freshly updated articles are?
Evergreen content, that fits a specific information need, is as important as newsworthy content. I spotted an article from FourWeekMBA.com (Gennaro's blog on business administration and management) that was published 9 months ago under the entity "business".
Does a page need to rank high on Google Search to be featured in Discover?
Quite interestingly, on a news website where I analyzed the GSC data, only 13.5% of the pages featured in Discover had received traffic on Google Search. Pages that received traffic on both channels had a position on Google Search <=8.
How can I measure the impact of Discover from Google Analytics?
A simple way is to download the .csv file containing all the pages listed in the Discover report in GSC and create an advanced filter in Google Analytics under Behaviour > Site Content > All pages with the following combination of parameters:
Discover is yet another important step in the evolution of search engines in answer and discovery machines that help us sift in today's content multiverse.
Keep following us, and give WordLift a spin with our free trial!