Google Top Stories is a powerful way to boost mobile SEO and CTR of news content. In this article, we describe a real-world implementation, what it takes to be picked up by Google and how to measure the traffic impact.    
When Google first introduced the top stories carousel it had an immediate impact on the news and media industry that started to embrace the support for AMP pages. Top Stories are a modern, ultra-performing card-style design to present searchers with featured news stories in Google SERP.
Getting featured is far from being a straightforward process as there are several requirements that need to be fulfilled and these requirements belong to different aspects of modern SEO: from AMP support, to Google News support (not required, while highly recommended), from structured data, to content editing, image preparation and page speed optimisation.
We take on a small handful of clients projects each year to help them boost their qualified traffic via our SEO Management Service. 
Do you want to be part of it?
Let's dive in and look at very basic by analyzing what we have done to bring this ultra-performing search feature to one of our SEO managed service clients. Before doing that, as usual, I like to show you the results of this work.
The top stories news carousel is an ultra-performing SERP feature that strictly depends from your organic rankings.
Here is the checklist you need to follow to grab this mobile SEO opportunity.
1. Enable AMP
A top stories carousel is presented in the Google Developers Guide as a Search Feature that requires the implementation of AMP. So you need to support AMP on your website either as native or paired mode. Unless you are starting to develop a new project from scratch you are going to use AMP in paired mode. This basically means that you are reusing the active theme's templates to display AMP responses. With this configuration, AMP uses a separate URLs, whether the canonical URLs for your site will not have AMP. You can use the AMP Test Tool to make sure that your pages comply with Google Search requirements for AMP.
1a. Comply with AMP logo guidelines
You need to make sure that the logo used to represent the publisher that is used in the structured data from AMP fits in a 60x600px rectangle, and either be exactly 60px high (preferred), or exactly 600px wide. A logo 450x45px would not be acceptable, even though it fits within the 600x60px rectangle.

Remember also when you have a logo with a solid background to include 6px minimum padding around it. Wanna see an example? Here is WordLift Publisher's logo.
2. Use structured data to markup your articles
Google describes the news carousel as "a container that includes articles, live blogs, and videos" and what helps Google understand the content on the page is the required structured data. So the second step is to make sure that you are supporting one of the following schema types:
You may also want to use one of these structured data testing tool to validate your markup.
2a. When in paired mode, make sure to have the same structured data on both canonical and AMP pages
Depending on how you are generating your AMP you might end-up, as it happened to several of our clients, with a different structured data markup on your canonical and AMP pages. This shall be prevented, it is inconsistent and can't prevent Google from showing your articles in the top stories carousel (we learned the lesson the hard way). The indication about using the same markup is provided in the Google AMP guide.
WordLift is fully compatible with the AMP Plugin (developed by Google, Automattic, and XWP) and AMP pages can inherit the schema.org markup of the canonical page and share the same JSON-LD. Read all about how to add structured data markup to AMP here.
3. Use multiple large images in your markup
Google in the article schema guide for AMP articles requires to provide, in the structured data markup, images that are at least 1.200 pixels wide and that have 800.000 pixels in total. This is not all – the guides also specifies that for best results publishers shall provide multiple high-resolution images with the following aspect ratios: 16×9, 4×3, and 1×1.
3a. Be specific when describing your images
Alt text are important and should be as specific as possible in order to describe images to visitors who are unable to see them.
This is an essential aspect of accessible web design and it is also strategic for image SEO. Google strives for indexing and serving high-quality and accessible content to its users and we shall do our best to support this process.
We heard of a case, in the US, where a website did not appear on Top Stories until they improved the alt text on the featured images (the main image of the article). They were (as a lot of publisher do) re-using the title of the page as alt text.
While this might work, in some rare cases, it is not considered an accessible practice and should be avoided.
4. Remember that being part of Google News is not required but…it helps a lot!
Google can feature any article matching the above criteria in the top stories carousel based on its organic algorithmic selection but…the reality is slightly different. Let's see why:
The Top Stories Carousel is indeed a SERP feature that evolved from the Google News box and serves the same goal,

While the main difference of the top stories carousel is that content is NOT restricted to outlets Google News approved in reality, as a result of

the "fake news" scandal

that exploded in November 2016, less-than-reliable sources (and smaller sites that are not in Google News) have been removed from the top stories carousel (NewsDashboard

published data

showing

more than 99% of desktop news box results and 97% of mobile news box results are from Google News sites).
So unless you have the authority of Reddit, Yoast and alike there are much more chances for you to land in the news box if you are Google News approved. If you want to dig deeper on the relationship between Top Stories and Google News go follow this thread on the Google News Help Forum.
4a. Follow the editorial guidelines of Google News
Google provides news publishers with a set of content policies to ensure a positive experience for the readers. It is not only about being newsworthy and keep on writing fresh new content but it also about limiting advertising, preventing sponsored content, malicious links or anything that can be considered hateful, offensive or dangerous.
Here you can find all the editorial criteria to follow and the recommendations that Danny Sullivan from Google provided in this post titled "Ways to Succeed in Google News". 
4b. Avoid article content errors
In order to be featured in Google News there are few technical aspects to be considered:
P

revent article fragmentation. If you have isolated sentences that are not grouped together into paragraphs you might get an error and your article will be rejected from Google News.
Write articles that are not too short and not too long. This basically means to write more than 80 words and prevent your pages from being too long to read. We usually see that between 600-800 words is a good match for a Google News article.
Make sure to write headlines of maximum 110 characters.
Review all the article content errors that you need to avoid to be eligible for Google News.
4c. Focus on original reporting 
Google has updated its news algorithm to focus more on originality as is being reported on September 13th, 2019 by the New York Times: Google Says a Change in Its Algorithm Will Highlight 'Original Reporting'. This has been also confirmed several times on the Google News Publisher Help Community.
"I would recommend doing more work, or more obvious work, on original reporting – fresh, new, original facts and information that isn't published elsewhere." Chris Andrews (Platinum Product Expert) answering a question related to Top Stories.  
5. Speed, Speed and again Speed
News readers want to be able to find fresh updates as fast as possible — and, especially on mobile people care a lot about the speed of a page. A top story is a mobile SERP feature that is purely organic-driven. If you get to the top 5 results of Google you can get it and it will be an extra boost for your traffic, if you are not top ranking you will not get your spot in the news carousel (in most cases at least).  Starting in July 2018, page speed has become a ranking factor for all mobile searches and this means that your website needs to be blazing fast.
How to track when you have been featured in the Top Stories
Tracking traffic generated from the Top Stories is not immediate and can only be done by looking at specific queries from the Google Search Console, using third-party tools like Semrush or RankRanger or look for specific patterns in Google Analytics.
The simplest way I found is to start from the Google Search Console by filtering results for Rich Results and AMP Articles.
When you see a spike, you can look from a mobile device the related keyword and hopefully found the matching article. Remember also that a given result might only occur in a specific country. This article here, for example, was only visible from Google in the US so we could only detect it by changing the territory in the Google Search preferences and using the incognito mode.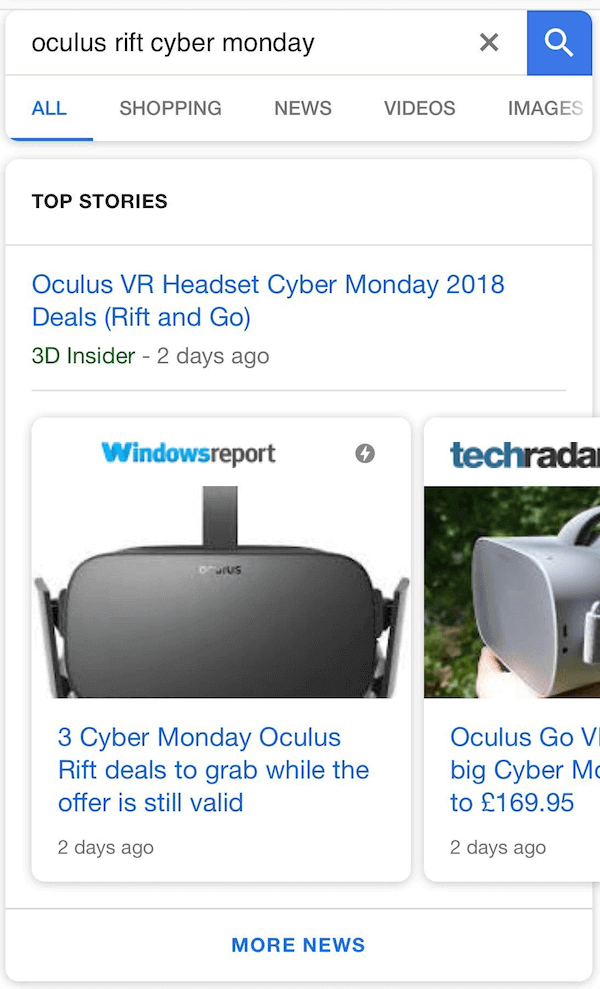 From Google Analytics we are also able to spot a top story by looking for a peak like the one below. As you can see that traffic, in most cases is only there for a 48-72 hours maximum.  
Given the relationship between Google News and Top Stories you might want to analyze these patterns by filtering top articles in Google News. This can be easily done in Google Analytics by knowing that  Incoming readers with referrers of 'news.google.com' or 'news.url.google.com' are from Google News.
Once again there are plenty of SERP feature optimization chances that we can leverage on when combining structured data with more traditional SEO factors and, they do create an enormous difference for your audience reach.
Article updated September 13th, 2019 following the change in the Google News Algorithm.