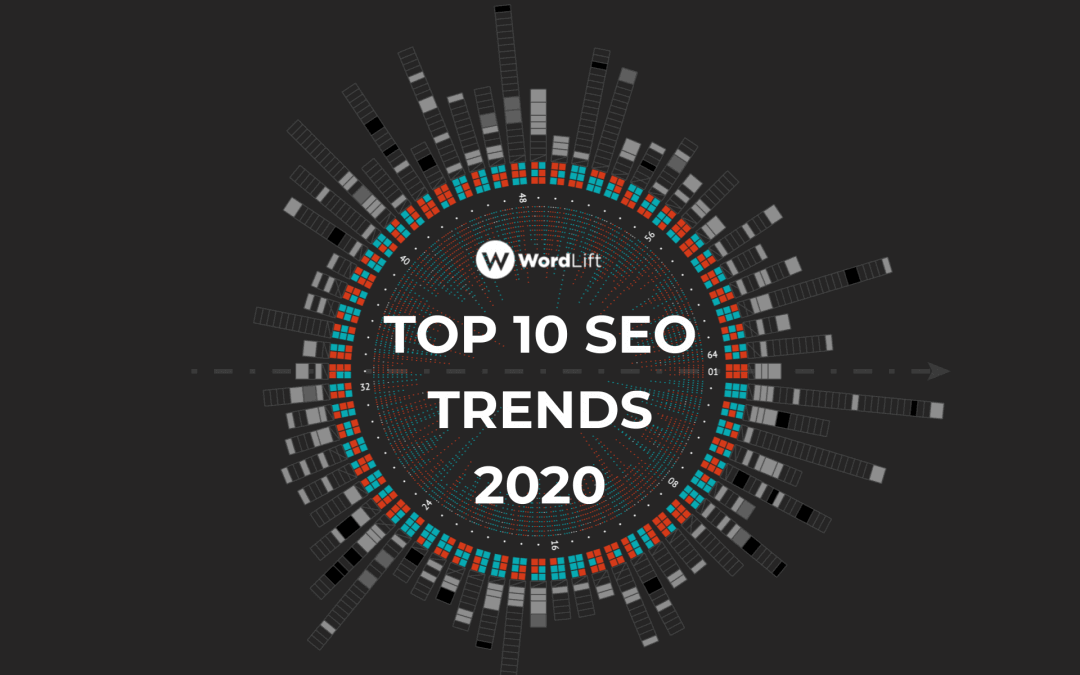 Here are my SEO predictions for 2020. In a nutshell: we need to re-think content marketing from the ground up and we – as tool makers – really need to design features that help you cope with an ever changing search landscape; organic opportunities on mobile shrunk by 9% in 2019 (according to Mary Meeker's 2019 Internet Trends Report) and in 2020, competition will be even fiercer. 
The success of our company depends on our vision and here is what we are truly betting on.
What are the top trends for SEO in 2020?
The trends for SEO in 2020, one way or another, are related to Google becoming more and more a digital walled garden: a closed ecosystem with full control over all the applications. Here are the top 10 trends you need to watch in 2020:
1. Google's SERP gets richer
With Cameos on Google, mini-apps, 3D images and AR within search we expect the SERP to become a true multimedia hub. We also learned that each new element of this media-rich SERP is driven by its one specific ranking algorithm (see what Jason Barnard calls  Darwinism in Search to learn more about it)  and that the core algorithm combines all of these rankings into one holistic overview. Following Google I/O, the support for 3D object and mini-apps have been announced; this will further expand in 2020. There are already many apps supporting AR and enabling consumers to see how 3D objects look in your home or how a new pair of shoes will look on you will become more popular (have a look at our snowman 3D example to get a taste of it). This is a complete new perspective – that yet it requires a savvy use of structured data (3D object use the so called 3D Markup). We will also see even more interactivity with Mini Apps – these are custom built applications that you can build within Google Search. We're developing a first prototype and yes – this is also a game changer for SEO.
WHAT CAN YOU DO ABOUT IT?
Forget about being 1° on the SERP; keep on innovating with high quality content that can appeal your audience across different search channels (from images to videos, from tweets to news articles). Use structured data to improve your SERP visibility and get ready to experiment with Mini-Apps and Google's new ways of engaging with users.
2. Voice search and Voice apps

are here to stay

Voice is no longer a new trend: voice-enabled device interaction is becoming part of consumer day-to-day information diet.

While the vast majority of users are still using voice primarily for basic tasks (i.e. "call my mum") we've seen concrete opportunities in two areas that we believe will keep on growing also in 2020: 
Long tail informational queries. We call it

Voice Search SEO

, and it is about optimizing content for long-tail queries likely to be spoken aloud, providing answers using

FAQ markup and creating content like recipes

and

news articles that the Google Assistant can interact with. Once you see traffic coming in for these long-tail queries on your website, you might want to consider creating your own skill on Alexa or application for the Google Assistant. See a practical example below ?
Voice interactions linked to Local Search.

Voice has a tremendous impact on local searches

and

drives valuable phone calls. Just to give you an idea 28% of consumers go on to call the business they voice searched for

(source:

BrightLocal

).  

 

    
WHAT CAN YOU DO ABOUT IT?
Start by analyzing long tail queries that matter for your business, make sure (if you have a local business) to optimize your presence on Google My Business (GMB) and improve the interplay with your website. Focus on calls and direct messages and always improve consistency. Remember your offline presence is strategic for your online visibility.
3. Intent-focused content optimization is the new mantra
Long tail queries will keep gaining momentum as voice search becomes more pervasive and Google gets better at understanding the intent behind each query. The game here is to create content that  works for your audience by leveraging on intent-focused content optimization, entity-centric content modeling and in-depth analysis of user personas. On-point and authoritative content that respond to specific information need will win. This leads – in SEO terms – to a clear understanding of your target audience (for this you might want to use our Web Analytics Dashboard) and massive restructuring of already existing content to ensure that only your best articles, for a given topic, survive. Get to work – analyze your strengths, spent time understanding your readers and prune anything that doesn't fit their need. 
WHAT CAN YOU DO ABOUT IT?
Spend time analyzing your readers, their behaviour and their journey. SEO is about creating an engaging experience that fits the need of the users. Make sure you only keep the best for them, consolidate content and spend time on improving your content model. Want to learn more about our entity-based content model? Book a call with us, we're here to help you grow your business.
4. Video keeps growing 
Video will grow and YouTube, besides being the second largest search engine after Google, has become your new TV (6 out of 10 people in 2019 prefer YouTube over TV). Current internet users (especially from younger generations) tend to prefer getting information from on-line videos. In pure SEO terms video is a terrific channel and whether you use YouTube or your own video platform getting videos on Google Search, Google Images and Google Discover is strategic. Using structured data here is a must and opens the door to an engaging user experience.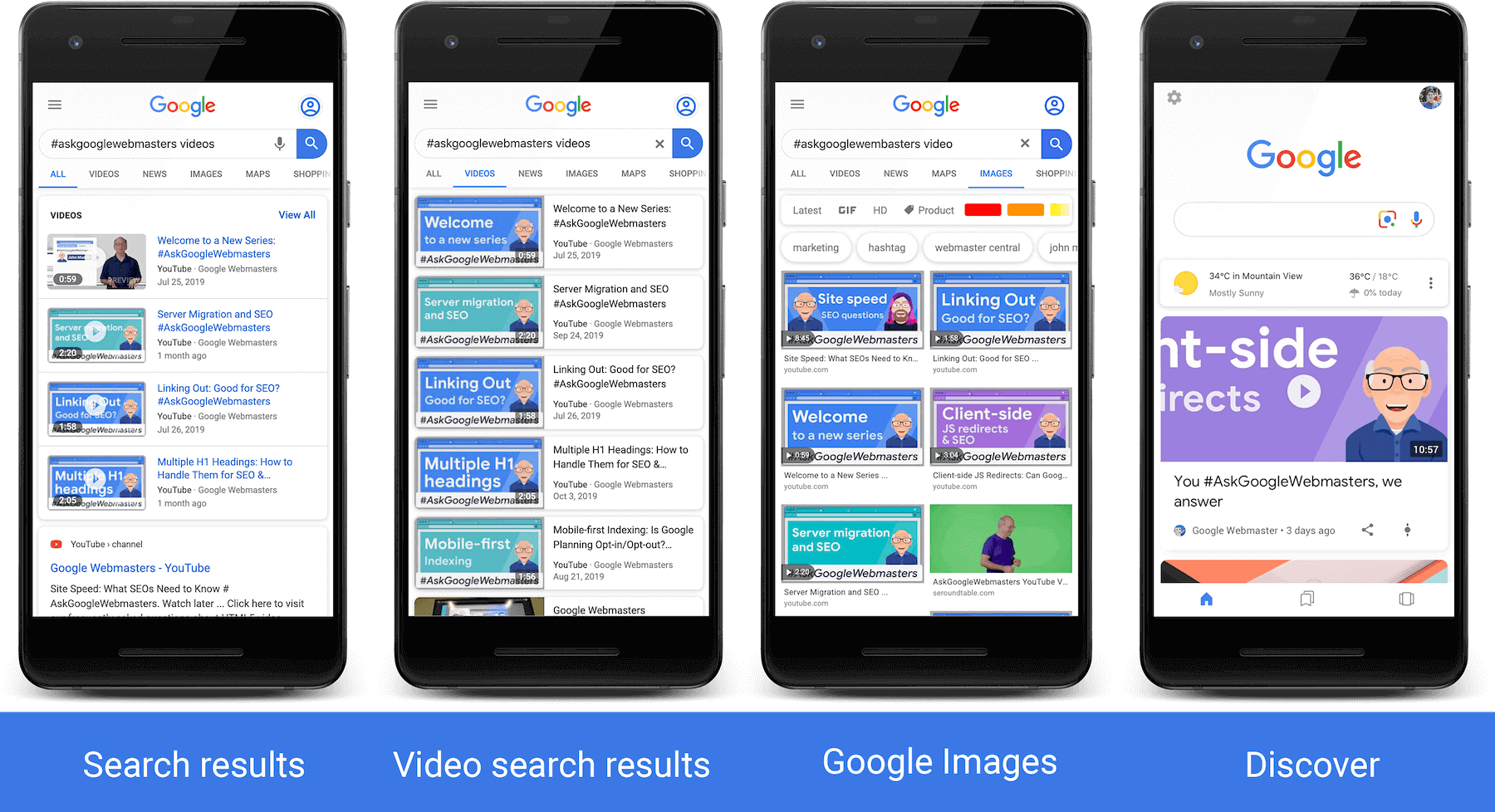 WHAT CAN YOU DO ABOUT IT?
It's time to setup your killer video studio and start filming. You don't need to break your bank, things can be done on budget and with . high quality. Use structured data to promote your content on the website and define a healthy strategy to engage with new users on YouTube.
5. Branding and reputation are essential
Branding and reputation are essential in modern SEO; earning your presence in the knowledge graph has a tremendous impact across multiple platforms (from Google Search to Google Images, from Google Discover to Bing Search) – and requires consistency, strategy, some understanding of linked data publishing and content quality (for all your E-A-T challenges and SEO questions Lily Ray is the right person to engage with).
Creating your digital brand means cultivating, nurturing and optimizing your presence in Google and Bing Knowledge Graph. Verifying, claiming the entity, using structured data and helping the gatekeepers (Google, Bing, Facebook etc.) let you interact with your audience. It also means monitoring the changes and to this regard you might want to read the recent study Jason Barnard did while tracking changes in the Google Knowledge Graph. 
WHAT CAN YOU DO ABOUT IT?
Get on the Google's Knowledge Graph and Bing's Graph, curate your entity on your own websites using structured linked data and remember, SEO is about branding as much as it is about disseminating high quality content. Define a clear KPI to make sure you keep on improving your brand visibility. Need help? Give us call, take the time to visit us in Rome ? and start improving your branding.
6. Queryless search goes mainstream
We saw publishers traffic skyrocketing in 2019 because of Google Discover, we expect these peaks to be normalized and trimmed as more sites gets into Google's massive content recommendation machine. Remember here the prophetic tweet from @methode (Google's Gary Illyes) on this topic and the SEO debate that followed it.
.@suzukik understood what i meant. Barry took a leap of faith. https://t.co/bKhso9vy2j

— Gary "鯨理/경리" Illyes (@methode) November 12, 2019
The basic idea is that things will change very quickly on this front. We have seen websites that in less than 10 months have accumulated a staggering amount of clicks and sites that got no clicks at all. I do expect this to change and the traffic to be distributed across a larger spectrum of websites in 2020.         
WHAT CAN YOU DO ABOUT IT?
Once again here it is all about proper structured data implementation, AMP support and hi-res images. Here is my updated checklist to optimize your content for Google Discover: read it all up and get ready for a completely new stream of traffic. 
7. Structured data is your new sitemap and…a lot more
Using schema is not only vital to let search engines present your content via featured snippets but has also become a way to help Google understand how the content on your site is connected. Learn schema markup and start thinking like a crawler (or let WordLift do the work for you ?) translates whatever content you think is important in a structured linked graph. We've seen literally magic happening this year with sites using our SEO-designed knowledge graphs (i.e. a 68% organic growth on the Salzburgerland website in an ultra-competitive landscape such as traveling and with a growing number of queries ending up in zero clicks). I also expect to see more concrete use-cases where structured data is not only used for SEO but becomes a building block of the content strategy (our Semantic Web Analytics Dashboard has been a success and we expect more people using on-page structured data to improve analytics, to improve user experience, to train new recommendation systems and to structure content).
WHAT CAN YOU DO ABOUT IT?
Do what Google does: build your own knowledge graph and automate structured data markup with WordLift. Structured data is no longer about rich results, it is an essential building block of your content strategy. Contact us to learn more 
8. Cutting-edge language models boost your writing creativity and provide further help with SEO ?
Programming is no longer the same, machine learning and natural language processing are a natural fit with creativity, content writing and content optimization in general. 2019 will be remembered as the year when NLP literally exploded, we witnessed one innovation after the other (from GPT-2 to BERT, from DistilledBERT to ALBERT) and an unprecedented level of improvements across the most daring NLP tasks such as content understanding, QAs answering, content generation and more. Unlike simpler language generation approaches like the good ol' Markov chains, which only work with a limited vocabulary, ML models using the transformer architecture can learn larger patterns of grammar and semantics and re-apply them in completely different contexts.    
Smaller, faster, cheaper and improved language models have revolutionized the world of NLP in 2019 (read this article here from one of the team driving this revolution of large scale language models).
Finally, the night has came and I can play with Question Answering using #Bert Large whole-word version on quotes from Umberto Eco, "The Name of the Rose" #NLP @TheodoraPetkova isn't this new wave of language models an incredible creative opportunity for content writers? pic.twitter.com/BSwN7elmAh

— Andrea Volpini (@cyberandy) December 21, 2019
WHAT CAN YOU DO ABOUT IT?
Needless to say, I see this trend evolving in 2020 and we're doing our very best to bring these innovations to WordLift (have a look at how we're planning to help you summarize blog posts using BERT). This is by far the area where I see most of the  opportunities in 2020, not only in terms of SEO automation but also in terms of content creation and optimization. Stay tuned, follow me on Twitter and get ready to improve your publishing workflow with the help of AI.  
9. Page Load Time continues to rule your world
The speed of websites and the different tasks that concur to the loading of a webpage will remain a key factor in SEO. Google has imposed – in the summer of 2018 – to improve the loading speed of websites and will continue to do so in 2020. The more we interact with our content using Google Search, Google Discover, Google Images and Google Assistant and the more our website need to be top performing. From improving Time To First Byte to skimming down complexity from HTML files we will continue to spend a lot of energy to make our websites blazing fast. Nothing new really – this was exactly the same target we had last year – it remains highly important but we have now more technology and more metrics to keep on improving (GSC, introduced a brand new speed report in 2019).       
WHAT CAN YOU DO ABOUT IT?
Always remember: Google will see and evaluate your website as a user with an average mobile phone connected on a 3G network. Do your best to reduce complexity, optimize content delivery and improve loading performances (from compressing images, to shrinking CSS, from web fonts loading to server response time). Start by analyzing your website with tools like GTMetrix and Web.dev and make sure to use plugins like WP Rocket. It's a technical investment, it requires effort but it really pays off. 
10. New search engines emerge
As Google plays more and more the Walled Garden strategy to increase its market share by literally devouring the user experience across multiple verticals (from flights to hotels, from cooking to jobs etc.) the need for an unbiased and possibly privacy-safe search experience keeps growing and paves the way to new search engines. Not only DuckDuckGo kept growing in 2019 and will continue to do so in 2020 but also Ahrefs (a well known SEO tool) announced the launch of a new search engine to encourage innovation (and to leverage on the raising complaints against Google from publishers). I also expect more SEO-related techniques to improve content visibility across the Amazon platform for anyone selling products online.        
Via https://t.co/1n176vSGJo pic.twitter.com/K4qLRUMu9s

— Rand Fishkin (@randfish) December 27, 2019
WHAT CAN YOU DO ABOUT IT?
Do your best inside and outside Google Walled Garden. It's pure fun, Google is still bringing a tremendous amount of value to web publishers and, with most of our clients in 2019, we have seen a double digit growth on organic. So, are you ready to innovate on SEO in 2020? Still have a question? Book a call with us and join our list of happy customers!
The image used in this article comes from a project called Visualizing I-Ching by Yvette Shen.