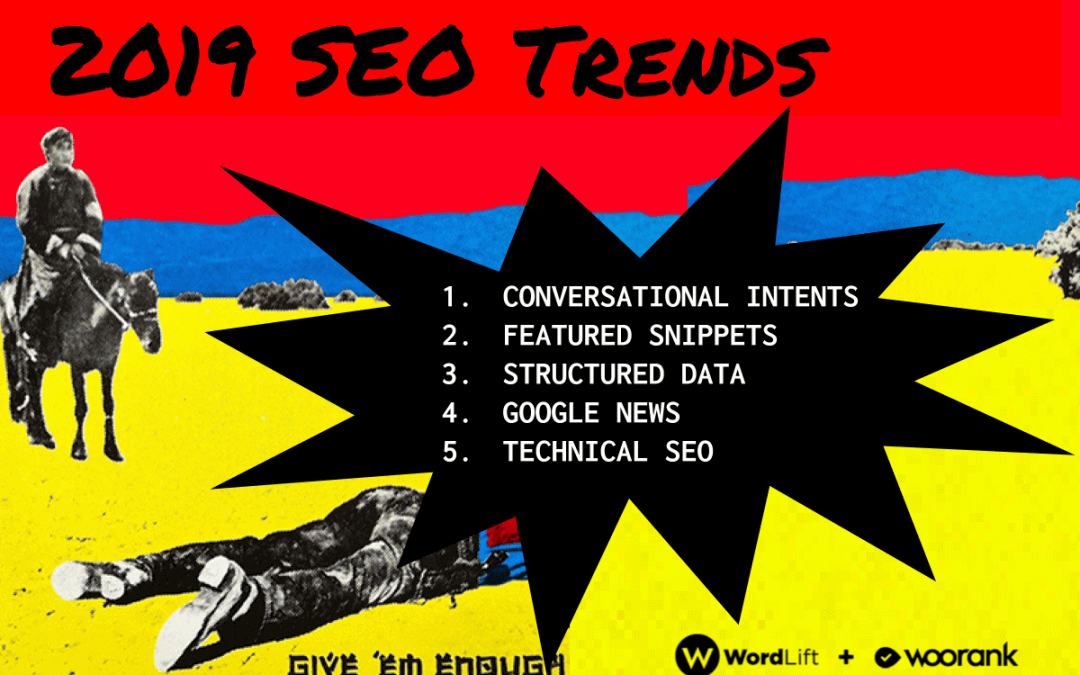 Conversational AI at the center of your content strategy!
2019 will be the year of voice search. This article explores how conversational AI and voice queries are driving the top SEO trends for this year.
What are the top trends for SEO in 2019?
The trends for SEO in 2019, one way or another, are linked with the growth of conversational AI, voice queries and the emergence of knowledge graphs. Here are the top 5 trends you need to watch in 2019:
? 1. Conversational user intents and long-tail keywords
? 2. Featured snippets and answer boxes
? 3. Structured data and knowledge graphs
? 4. Google News Optimization and Content Discovery
? 5. Technical SEO for less complicated and faster websites
We're already living in a world where 13% of Google searches are voice queries (here is a good article to read by Rebecca Sentance on what the future of voice search holds for us). The very enthusiastic supporters of the voice search bandwagon might even say that by 2020 one every two searches will come from voice but predictions, as we know, are very hard to make especially in the marketing world.
What we have seen for sure in 2018 is that voice search is shaping the entire SEO industry. As SEO Expert Aleyda Solis pointed out recently, voice search is driving "a bigger shift", from specific "results" to "answers" that become part of a continuous "conversational search journey".
Artificial Intelligence, though, is the real enabler behind this transition. It was back in December 2016 when, Andrew NG Chief Scientist at Baidu at the time, predicted that speech-recognition accuracy going from 95% to 99%, would have moved the needle in terms of mass adoption of voice interfaces.
As speech-recognition accuracy goes from 95% to 99%, we'll go from barely using it to using all the time! https://t.co/TfjqJLDTPJ

— Andrew Ng (@AndrewYNg) December 16, 2016
As of today machine learning and semantic networks are being constantly used to provide a personalised user experience across a multitude of channels, to guide the user across different tasks (from driving directions, to cooking, from podcast discovery to news reading and "listening") and to help us find what matters the most.
In 2018 we witnessed knowledge graphs entering the Gartner hype cycle as emergent technology forming the bridge between humans, knowledge and conversational AI. In 2018 not only researchers and universities, but also industry companies have been heavily investing in knowledge graphs and not only Amazon with its product graph, Facebook with the Graph API, IBM with Watson, Microsoft with Satori and Google with its own Knowledge Graph but also Internet startups like Airbnb, Zalando and many others have committed resources for the creation of functional knowledge graphs meant to support general-purpose reasoning, inference and above all an improved search experience.
In conclusion, we don't expect the entire world to shift to voice but we can predict that conversational AI and a combination of voice and touch interactions will drive SEO in 2019.
In 2019 SEOs and marketers have to prepare for a more human-driven and conversational web. Voice search will not disrupt every business but it is a driving force in the entire content marketing sector. The 2019 trends for SEO, one way or another, are linked with the growth of conversational AI and the emergence of knowledge graphs.

1. Conversational user intents and long-tail keywords
Focusing on the user intent is going to be strategic. We expect that the user search intents will be likely expressed in a more advanced range of sophisticated conversational queries. Focusing on long-tail keywords that target a specific user (in a specific context) will be simpler (and wiser in most cases) than going after a broad keyword.
When and if, we decide to go broad and to target a more general intent (ie. "business model") we shall provide enough structure (and data) to help users (and machines) find the winning answer by further refining the initial request as if they were having a dialogue with the website ("Are you interested in the business model of Apple or of a startup?").
Imagine preparing content as if the user would be always asking their questions to a Google Home or another voice-first device. We need to prepare all the possible answers that a conversation around that topic might trigger. We need to guide the user from the initial request to a deeper discovery of the available content and we need to match the format the user is looking for (some might like to activate a video, while others might prefer a long-format article).   

2. Featured snippets and answer boxes
As a result of the information overload, and due to the growth of queries carried out via smart speakers (statistics talk about 26.4 million daily voice queries) machines will constantly need to sum up a vast amount of information, find what is really relevant for us and provide a decent speakable version of our content. While parsing language remains one of the grand challenges of artificial intelligence good results are today being achieved by Google Featured Snippets, Bing Expanded Answer and the alike. Visibility across the SERP and throughout the AI-first user experience is very much dependent on answer boxes and featured snippets. Once again, this is currently an aspect of SEO that involves mobile as well as the desktop but it is fueled by the growth of conversational AI. We shall prepare content that can be easily summarised and read aloud; we also need to leverage on structured data to help machines disambiguate the context and to support the meaningful summarization of it.

3. Structured data and knowledge graphs
Linked data, knowledge graphs and schema markup helps us connect content with a specific search intent using usage patterns that are now embedded in the search experience. A vast variety of Google SERP features are already dependent on structured data and more will come in 2019. Here below a quick overview highlighting in blue the SERP features that are linked with the use of structured data.
Structured data is foundational in the conversational era as it provides well-defined information for a wide range of encoded user intents. Machine learning needs to be trained across a vast amount of semantically relevant datasets. This is true for commercial search engines, for smart assistants and for our own internal user experience – once again our website needs to become capable of answering to specific intents by guiding the user where it matters the most.
4. Google News optimization 

and content discovery

Pre-emptive knowledge delivery and content discovery have been a trend for a few years now. This basically means helping users discover content in a serendipitous way and without searching for. In September 2018 Google introduced the Google feed "to surface relevant content […], even when you're not searching for".

Being able to predict the information need in a queryless way is a major focus in Google's future of Search and it will be strategic for all major consumer brands (Amazon, Facebook, Microsoft and Apple). If we focus on Google alone we can see that, content being proposed in Google Discover is made of three types: youtube videos and fresh visual content, evergreen content like recipes and news articles. As we have seen in the checklist to optimize for Google Top Stories being present in Google News has become an important asset since the explosion of the fake news scandal (Google News content represent a selection of somehow validated and authoritative content that Google – and other players – can trust). While not all websites are eligible for Google News, if you are producing fresh content for your industry this is definitely a time to consider Google News as a new distribution channel. This becomes even more strategic these days since Google announced an upcoming voice-driven version of Google News for the Google Assistant.
5. Technical SEO for less complicated and faster websites
In 20 years we failed in building a simpler Web. Websites are becoming more and more complicated with an endless number of (sometimes useless) routines that run every time a browser hits the first page. I am not going to get into the topic but there is a brilliant article that you should read to learn about the importance of simplicity and why (the article is titled The Bullshit Web and is by Nick Heer a front-end developer from Canada) we now have to invest on technical SEO. Once again the key aspect in technical SEO – in relation with the conversation AI – is speed.
As highlighted in a study done this year by Backlinko – content that is brought into the Google Assistant is only the content that renders super fast.      
Page Speed has effectively become a mobile ranking factor as announced by Google this last July and will continue to impact on SERP features (featured snippets, top stories etc.)  and voice search in 2019. Another major aspect that we expect to keep on driving organic growth is the support for Accelerated Mobile Pages.
Search in 2019, besides these key 5 trends, will be once again about building relationships, providing valuable answers to people needs and keeping the audience at the very center of the content strategy.
By creating exceptional content and using artificial intelligence tools for SEO you will keep your website ahead of the curve!
Still have a question? Want to go in-depth with more insights and tips? Book a call with us and get ready to dominate SEO in 2019!