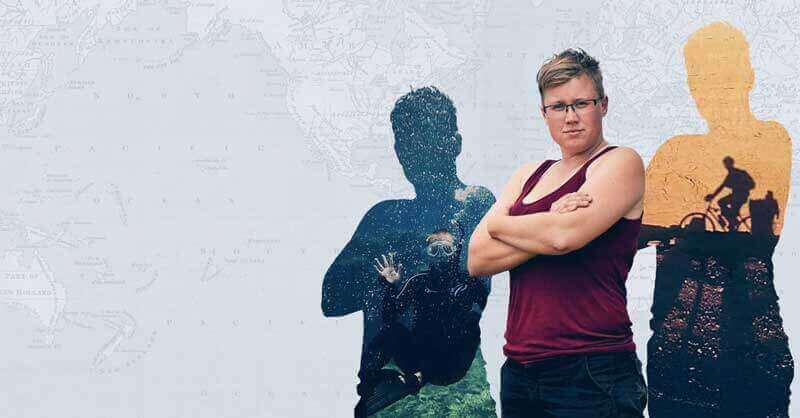 In July, we started a new column on our blog named #DigitalTrotter. It was the lucky intuition of our friend Alessandro who came up with the title and the focus of this new series of articles.
Who are those Digital Trotters? From Fashion Bloggers to Foodies, from Social Media Managers to Digital Visionaries, there's not just one kind of trotter that we like to meet.
Today we would like to present a friend from WooRank that came visit us in our office in Rome just few weeks ago while visiting Italy with her mom and girlfriend. Her name is Anne Dorko, and she's the most perfect example of what Digital Trotting means. She's young, talented, creative and fun. A long-time digital nomad, Anne now lives in Germany and moves to make things happen. Do you want to know more about her?
ANNE-DORKO-interview-1.mp4
Loading player...

She's an artist, a web developer, an entertainer. She thinks of something, and then she realizes it. Like when on 2012 the Without Boxes project was launched. It is a series of extraordinary podcasts made of ordinary people's extraordinary stories. Because everyone matters, and we can all improve so much by learning from each other and sharing our lives. During that same year she also started (and finished!) the project girlsbetrippin and visited 48 states in the USA in just 7 months. Mission accomplished!

Then, in 2013, because she's a singer/songwriter too, she started First Aid Project, featuring a series of raw, acoustic music session you can find on Twitch. Her music is really good, and from time to time you can find her performing live on the streets in the new city she's visiting.

Just looking at what she has accomplished in her life so far, I'm – whoa! She must be truly amazing. Traveling, diving, cycling, realizing new original plugins and WordPress themes. Nothing has stopped her so far.

In 2015 she launched DialectPro, a community dedicated to build effective and more useful websites that could improve the life of the users visiting them. Clever, uh? Then, she also published a book, "Catching Up with the Internet".

On July 2017 she launched SEO Prompts, in partnership with WooRank. The tool helps little website owners attract visitors from search engines in a simple way. They will get a new, short task every day, by email, helping them improve their website ranking and overall performances. With SEO Prompts everyone can learn to create stand-out content, make better design choices, and, above all, optimize their site to reach specific goals.

Here's how it works:
Maybe you're a young entrepreneur who has spent a lot of time and energy building a very good website, but the SEO side of the project is still a mystery for you.
You'll need to rank better to really increase your exposure and attract better and more qualified visitors.
How Woorank SEO Prompts might help you? You will get a simple task every day, a simple reminder with all the essentials of SEO grouped together into manageable daily tasks so you don't have to think about it anymore.
ANNE-DORKO-interview-2.mp4
Loading player...

If you want to receive Anne's SEO Prompts, just go to SEOPrompts.com, subscribe with your name and email and… enjoy Anne's advice.