Our guest today, for this webinar in the form of an interview, is someone who started optimizing websites even before Google existed.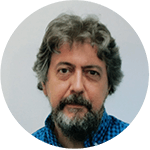 President and founder of SEO by the Sea, and also Director of SEO Research at Go Fish Digital, Bill has been doing SEO and internet marketing consulting professionally since 1996. He started his career pursuing a completely different profession though, but since the '90s the SEO community knows him as "the guy who deciphers Google Patents", and after more than 20 years Bill has cracked more SEO intuitions than anyone else.
He has unique insights into SEO best practices and vast knowledge of the digital marketing industry.
We're super thrilled of having him with us today and to have the opportunity to learn more about what's really inside Google's mind.
Abstract
In this webinar, Bill Slawski together with Andrea Volpini will explore how schema.org can be used to enhance your SEO strategy.
What are we going to discuss?
Among the things discussed in the interview a few key points will be touched:
How to use schemas from the latest version of Schema 3.5 is the "knows about" attribute
How entities affect search results
How Google Discover is changing the SEO world
How SEO changes in a query-less world
How to write content to get inside Google's advanced features (featured snippets, knowledge panels, and more)
And much much more!