Meet Tao Roma
Tao Roma promotes personal development starting from ancient Chinese disciplines such as Tai Chi Chuan, Qi Gong, and Taoist Alchemy, bringing them to the contemporary life.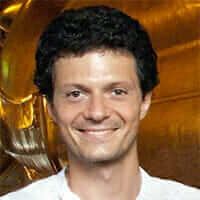 His founder, Oscar Valentini, is a martial art, Tai Chi Chuan, Qi Gong, and Taoism teacher. He comes from Rome, Italy, and his blog Tao Roma is a focal point for the promotion of his work. We asked Oscar what kind of business goals he was trying to achieve with his blog when he first started it, and his answer was quite interesting:
"It was 2013 and goals was quite a strong word. It started by chance, because I wanted to spread my knowledge about Tao wellness techniques. Blog articles and Facebook shares immediatly worked powerfully to disseminate content and engage with people online. At the time, my main goal was to make people curious to experience how ancient Tao wisdom can impact on their lives with a little personal commitment."
And then, in the end of 2015, Oscar was one of the early beta testers of WordLift. What did it change on the blog results?
"Wordlift was revolutionary: for a while I stopped writing new articles, and worked on my own vocabulary of core concepts, the so-called entities. Then, I edited many of my articles to connect them with those crucial concepts – which where implicit when I first wrote my blog posts. When these concepts were published as web pages and linked to the articles and to each other, they allowed me to build a knowledge graph into my blog. While I was writing, I din't even get how essential this change was going to be, but then everything became clearer. Now I better understand the importance of a consistent editorial plan thanks to the content organization that WordLift allowed me to see and live into my blog."
And talking about the results…
"In time, WordLift effect also impacted on our results: I reached more people, who are interested in our offer of activities and courses, and I noticed great improvements in SEO. Today, when somebody calls me to offer a SEO consultancy, I always say that there is already someone working on it, but I never say it's a software!"?
How WordLift supported Tao Roma with content marketing
Since December 2015, Oscar used WordLift to support his articles with a meaningful galaxy of terms and definitions that could be useful for those who are approaching martial art, Tai Chi Chuan, Qi Gong, and Taoism for the first time. Each of these terms is an entity and is part of an internal vocabulary which helps people – and machines as well, such as search engine's spiders – to understand the referral context.
Until now, Oscar created 142 entities, represented as linked data in the JSON-LD format thanks our plugin. These entities are linked to DBpedia with the 'sameAs' property and are described through the schema.org vocabulary: since they are connected to the web of data, they inherit some properties from DBpedia and schema.org that provides search engines with the required meaning and context. The more entities he created, the more he reinforced the connection between Tao Roma's website and its specific semantic domain.
In the histogram below, you can see the 50 most recurring entities of Tao Roma's vocabulary and discover how many articles and other entities are connected with them.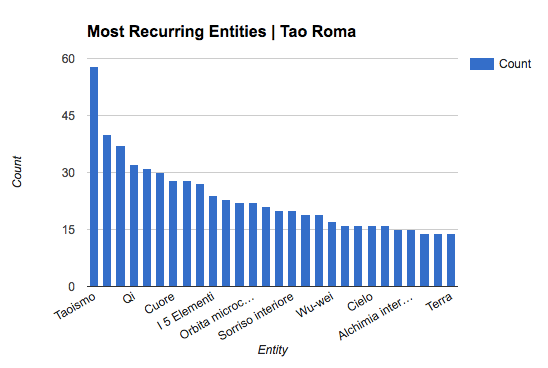 In the pie graph below, you can see the content classification of the entities inherited from DBpedia. Notice that one of the main topics of the blog is Tao Massage and this can explain why so many entities are classified as anatomical structure.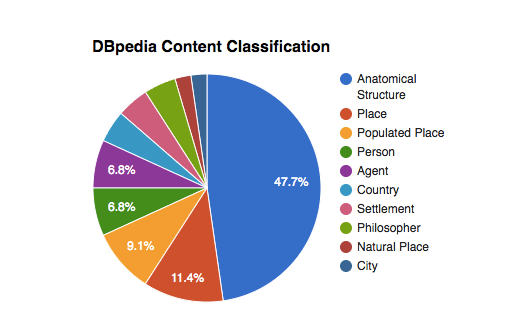 Got it, now show me the numbers!
Here is a diagram from SEMrush describing the organic increase Oscar has experienced on his blog thanks to the WordLift effect.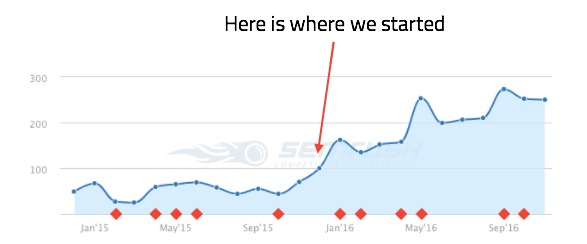 The overall results have been impressive and way beyond our expectations. Let's look more closely at the metrics to understand why organizing your website with structured data matters:
New users from Google (organic search) – Oscar installed the plugin and started to organize the content architecture of his website in December 2015: since then the website received a 42+% increase of new users coming from Google's organic search.

Pageviews – We went from a monthly average of 5.662 pageviews in September, October and November 2015 to a monthly average of 14.699 pageviews in the months of December 2015, January and February 2016. This is an 88+% increase (in the last three months since writing this article the monthly average of pageviews is up to 17.368 – so the effect is continuing at a stable rate) – this is an interesting metric but as we know, it is way too generic to help us get a clue on what we're doing right.
New sessions from organic search – Comparing to a benchmark of 26.686 websites worldwide in the sport vertical (with daily sessions ranging between 100-499), Tao Roma's Analytics showed a +36,22% (80,03% vs an average of 58,75%) of new sessions coming from organic search.
Sitelinks – As you probably already know, guiding visitors of your website is a great advantage provider. These links are displayed on the SERP and highlight the main sections of the website, improving brand reputation and user trust. Sitelinks cannot be added by webmasters. They are the result of a well-structured website and the first thing that proves how well a website is organized.
Dwell time – Three months after the creation of the initial vocabulary, the average time spent on page increased of 17.27%. This metric certifies an authentic interest from user's side.
Today, thanks to this impressive results, Oscar is looking further and thinking about the next revolution for his website…
"Our website is going to be transformed again from the graphic and UX point of view – moving from a blog look and feel to an actual online magazine, where we'll see different home pages based on the season of the year and on our calendar of events and initiatives. This flexibility is also a consequence of the strong contribution of WordLift to the content writing and structuring process."