Schools, colleges, universities – this is the essential EntityType for all public and private institutions that offer or sell courses, whether in person or online.
If you are one of these entities and want to be found by students looking for courses like the ones you offer or sell, then read on. In this guide, we will show you how to add structured data to your course web pages and how to reach the right audience to get more organic traffic and more students.
What Is A Course Schema Markup?
Schema Markup Course is the specific entity type for web pages that describe an educational course that may be offered online or in person by public and private schools, colleges, and universities. 
How Do I Add A Course To Schema?
WordLift allows you to add Schema markup for courses. Select the schema type Course from the list on the right and save your content.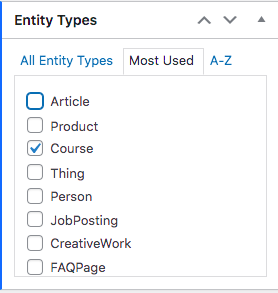 When you select Course as the schema type for your content, custom fields appear for you to enter your course information when you edit your course content.
Only the course name and description are mandatory, but we recommend that you fill in the custom fields carefully and accurately so that you provide Google and the search engines with complete and unique information about the course you are promoting.
Test Structured Data
Test your schema.org markup in Google's Structured Data Testing Tool to make sure it's valid. You can test your markup with a simple click.