If you are confused about meta descriptions in SEO, why they are important and how to nail it with
the help of
artificial intelligence
, this article is for you. 
If you are eager to start experimenting with an AI-writer, read the full article. At the end, I will give you a script to help you write meta descriptions on scale using BERT: Google's pre-trained, unsupervised language model that has recently gained great momentum in the SEO community after both,
Google
and
BING
announced that they use it for providing more useful results.    
I used to underestimate the importance of meta descriptions myself: after all Google will use it only on 35.9% of the cases (according to
a
Moz analysis
from last year by the illustrious
@dr_pete
). In reality, these brief snippets of text,
greatly help to entice more users to your website
and, indirectly, might even
influence your ranking
thanks to higher
click-through-rate (CTR)
. 
While Google can overrule the meta descriptions added in the HTML of your pages, if you properly align:
the main intent

of the user (the query you are targeting), 

the title of the page

and

the meta description 
There are many possibilities to improve the CTR on Google's result pages. In the course of this article we will investigate the following aspects and, since it's a long article, feel free to jump to the section that interests you the most — code is available at the end.
What are meta descriptions?
As usual I tend to "ask"  "experts" online a definition to get started, and with
a simple query
on Google, we can get this definition from our friends at WooRank:
Meta descriptions
are HTML
tags
that appear in the head section of a web page. The content within the
tag
provides a
description
of what the page and its content are about. In the context of SEO,
meta descriptions
should be around 160 characters long.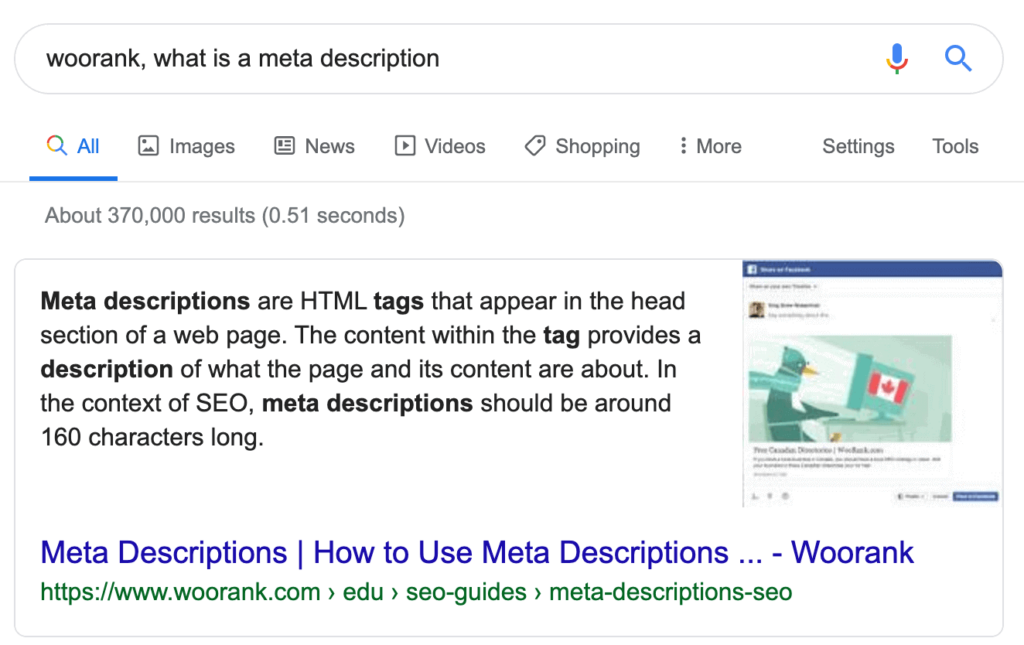 Here's an example of what a meta description usually looks like (from that same article):