Effectively ranking a video-on-demand website in search engines is a challenge many content creators and businesses face.
And with the ongoing global pandemic and current landscape, many have started looking into taking their businesses, events, and organization online by launching a video-on-demand site to host/monetize their content and have it globally accessible.
When the majority of your content is video-based and hidden behind a paywall, it can make on-page SEO feel like a constant uphill battle. But it doesn't need to be.
By learning how to build your video website the correct way, you can create a platform that ranks well for your target keywords and also outranks YouTube, like this one.
In this guide, I'm going to show you how our best Uscreen clients have optimized their video websites to rank high on SERPs and convert.
How To Build A High-Ranking Video Website In 7 Steps
Step 1: Perform A "Netflix Audit"
The first step is to perform what I call a "Netflix Audit."
This involves going through your website and stripping it of any elements that make the logged-out view of your website look like Netflix's logged-in dashboard. That's this page here:
Video websites often try to emulate Netflix's design because it looks aesthetically brilliant, showcases the depth of their video database, and has a familiar feel to their target customers.
As you can see from the design below on Magic Stream's website, it looks and feels just like Netflix:
But this type of theme design on your website's customer-facing website pages comes at a high cost to both SEO and conversions, because it:
Decreases your website's speed
Limits the amount of text (and keywords) which feature on a page
Doesn't provide enough context for semantic search
Doesn't contain elements needed to convert a customer (like CTAs or product info)
Combined, these elements can have a negative impact on your website's rankings. If nothing else, the layout is complex for Google's crawlers to work their way through, and filled with information they struggle to interpret.
Netflix understands the pitfalls of using this dashboard view and, despite not having a search-led marketing campaign, they still opt for a text-based homepage.
If your video website is heavily reliant on this Netflix-style theme, I highly recommend you keep this dashboard-view for the paid (read: logged-in) version of your website and use a more traditional-style landing page for your homepage and subsequent category and taxonomy landing pages.
Step 2: Optimise Your Website's Homepage
The most important page of any video on demand website is the homepage. It has two crucial jobs:
Ranking: it needs to be well structured to compete for good positions in the SERPs
Converting: it needs to convince visitors to become customers
Your homepage is one of the few pages that will be eligible to rank for search terms because it isn't behind a paywall, so it's your chance to shine in the SERPs. It's also one of the few pages visitors will see before making a purchasing decision.
These factors mean the page will need to be optimized enough to rank for your target keywords but also structured in a way that showcases your product. Basically, it needs to be both a landing page and a sales page rolled into one.
To help you achieve this, let's split this step into mini-sections.
Ranking: How To Optimise Your Video Homepage For Search Engines
To create a well-optimized homepage, you will want to rank for two kinds of keywords:
Branded: the keywords you "own" (such as your company or product name)
Most relevant: a short or medium-tail keyword likely to drive relevant traffic
If you're already fleshing out your SEO strategy, you will already have these keywords in place. Use this guide to understand how keyword research works and how to get started.
To ensure you have space to naturally include these keywords on your page, follow the 80/20 rule:
80% of your homepage should be made up of keyword optimizable elements (headers, text, images, etc.)
20% of your homepage should be made up of video
In a recent study, we've found that your homepage's length doesn't play too much of a role in how you rank—our top four ranking Uscreen video websites have less than 500 words on their homepage—but making use of this 80/20 balance does.
Be sure to feature your target keywords in
At least one H1 or H2 tag
The Alt tags for at least one image
Your title tags and meta description
IndieFilmHustle TV, a video website focused on indie filmmakers and screenwriters, is a great example of getting this right with limited text.
Their target keyword is "Indie Film Channel" which they strategically placed in key places for semantic search, namely the page's header, and title tags:
Doing this has enabled them to have enough information and context for Google to willingly rank them in the second position for their target keyword.
Converting: How To Structure Your Video Homepage For Sales (A 10-Point System)
We find high-converting video homepages all follow a similar structure from the top of their page to the bottom.
This can be varied depending on your branding and what you feel looks best for your site, but these elements should be present in some way. Here are the 10 points they all hit:
Hero image or carousel: vivid and relevant product or niche imagery
Subscription info: two-to-three sentences about your product and any free trials
Expanded product info: text-based information about your product or page (which can be supported by video or text)
"How It Works" section: a bullet-point list of how video on demand works (as it relates to your product)
Testimonials: share the views of your fans and customers
Payment and pricing: the cost of your product with a sign-up button
Featured videos: a small catalog section with JPEG images internally linked to video pages
Social media: updates from your latest social media posts (if applicable)
Free trial link: a final mention of your product's free trial
A great example of this structure is the video on demand website, Naturally Sassy: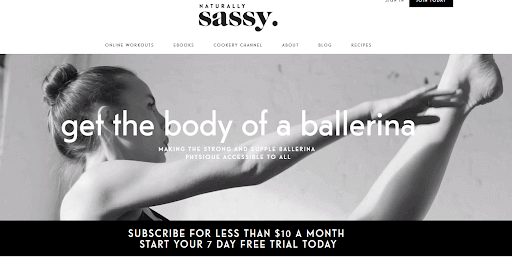 If you work your way down the page, the comprehensive home page allows the videos and services as the focus, without compromising on any on-page SEO factors.
Step 03: Make Use Of Strategic Target Keywords
When Google has a limited amount of information to work with, context is everything.
The more information you can provide in fewer words, the more it will help you set the foundation for a highly rankable website. One way you can provide more context is by using Latent Semantic Indexing (LSI) keywords.
LSI keywords are related to your target keyword or the focus of your website and help Google understand the big picture of what your website is about. And even though Latent Semantic Indexing is old technology, and search engines might not heavily rely on LSI these days, it's still one of the best SEO practices to make sure that your storefront and other pages are targeting a set of keywords and key phrases relevant to what you represent and what searchers are actively looking for when searching for your content.
Let's say you run a pop-culture website and you create a video web page talking about "Avatar." Google would look for these set of keywords to determine if you are referencing:
Avatar – The 2009 Film (Film, James Cameron, CGI, etc.)
Avatar – The Metal Band (Music, Guitar Solo, Tour Dates, etc.)
Avatar – The Anime Cartoon (Aang, Nickelodeon, Waterbending, etc)
These keywords are especially important if your target keyword could be interpreted in multiple ways. Take KweliTV, an independent film streaming platform, for example, whose target keyword is "black streaming service."
The word "black" makes this keyword unspecific; it could be referring to a brand called Black or an illegal black-market streaming service.
To ensure their website is recognized as a streaming service for black people, KweliTV uses a range of LSI keywords like:
Black community
100% black-owned
African descent:
– Caribbean,
– African American
– Latin American
– European
Diversity
Cultural issues.
These keywords will often naturally appear in your website's copywriting. But, you can also find them suggested using a tool like WooRank's keyword tool.
Step 04: Hit The "Big Three" Of Video Optimisation
This part is simple. Google is looking for three things when analyzing a video:
Title: a descriptive headline for the video
Description: a clear description of what the video is about
Thumbnail: an image relevant to the content
These enable Google to determine what your video is about if it's unique and valuable, and whether it's worth ranking and are non-negotiables in the eyes of Google's webmaster guidelines.
Because Google doesn't "watch" your video in the same way it "reads" a blog post or article, this extra information provides more context and an understanding of how the video will look to the viewer.
Step 05: Build Video Optimised Pages To Attract Traffic
As a video content creator, you are likely to use video to help promote your business. One way to capitalize on this, and to generate more organic search traffic, is to focus on ranking video pages and category pages.
These pages are a great way to add high-value content to your video on demand site, which is also likely to attract links and social signals that can improve your rankings.
The structure of these pages is similar to that of a blog post, which as standard will include:
Keywords in your headline tags
LSI keywords throughout the page
An optimized meta-description
Minimum 300 words text
Internal links to other website pages
Moz does this brilliantly with their Weekly Whiteboard Friday video posts, like this one on SEO title hacks:
They use a short, keyword-rich introduction to the video, and then follow it up with a blog-post style transcription of the video below.
Video content is well and truly at the core of this content, but these extra touches help to increase the perceived value of the content and have some positive semantic search factors.
Step 06: Use Schema Markup To Add Depth
Google has a hard time understanding video content. They can glean limited information from the audio and video files but are still heavily reliant on text and users to provide context.
You can make Google's job much easier by applying schema markup to each of your video and category pages. This allows you to tag elements of your video like:
The video's content
Who made and directed it
Reviews or ratings of the video
Adding schema markups to your video and category pages will enable Google to display your pages as rich results. Here you can find the ultimate checklist to rank in the Google Top Stories Carousel.
Although schema markups don't directly impact rankings, it can help Google understand the information on your pages better. This is super helpful for your video pages and category pages.
You can read the full guide to video schema markup right here.
FAQ Schema for Video and Category Pages
Another great tactic to increase your SERP real estate and drive more clicks is to use FAQ schema markups on your video and category pages.
What is FAQ schema?
"A Frequently Asked Question (FAQ) page contains a list of questions and answers pertaining to a particular topic. Properly marked up FAQ pages may be eligible to have a rich result on Search and an Action on the Google Assistant, which can help your site reach the right users." -Google
Here's an example of an FAQ rich result:

Although Google only mentions FAQ schemas for FAQ pages, this doesn't mean that you can't leverage this type of schema on other pages.
In fact, adding a FAQ section to your category and video pages, not only will allow you to naturally add context to the pages but also will allow you to answer frequently asked questions, boost your visibility on SERPs and organic traffic.
For example, let's say you've launched an online yoga studio and published a series of yoga workout videos for back pain. By answering several frequently asked questions around the topic (Yoga poses for back pain), and adding FAQ markup to your category page, you can both elevate the user-experience as well as organic traffic.
In the example below, you can see how this page is using FAQ markup to do exactly that: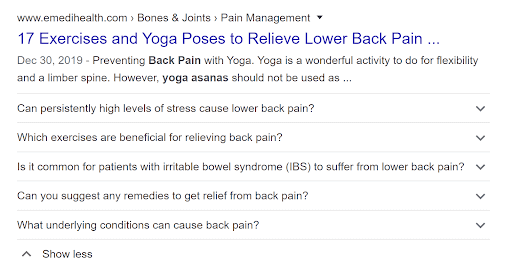 Check out this guide to learn more about how you can easily add FAQ markups to your pages using GTM, regardless of your CMS.
Step 07: Make Use Of YouTube
YouTube is the world's largest video search engine and it should play a part in your website's overall SEO strategy.
As you can see in this example from TawzerDog, it's possible to rank first for keywords on both search engines, without negatively impacting your search results:
Uploading your marketing videos to YouTube can provide social signals back to your website, as well as bringing in traffic from people who find you on their platform.
Wrapping This Up…
Although ranking a video and live streaming website is more challenging than your usual text-based website, I hope you can see it's not impossible.
By setting the foundation of good on-page SEO, and focusing on user-experience over video-showcasing, you can build a website framework that ranks well, even with limited content.
Amir is the digital marketing manager at Uscreen, an all-in-one video monetization and OTT platform provider that empowers video entrepreneurs and creators to monetize their content and build thriving businesses around their videos.