WordLift 3.18 is a full-featured release of our AI based plugin that allows your website taking another step forward in the semantic web. It builds a smarter knowledge graph out of your website's content and opens up new ways to organize your content for SEO and editorial purposes.
WordLift's knowledge graph is getting smarter
Imagine how users can access your content.
Whether is a featured snippet showing on the SERP of Google or an app providing an answer to a personal digital assistant, there is always data playing its magic and describing the content of a website in a machine-friendly form.
A knowledge graph is the scaffolding that lets crawlers and bots access to your content in a simpler way.
WordLift's knowledge graph is evolving. Find out how it will help you gain better results in SEO.
The Glossary Widget: organize your information
WordLift 3.17 introduced a new widget, the Glossary Widget, which allows you to add a glossary page on your website using a simple shortcode.
This widget will open a brand new way to access your website content starting from the main concepts you are using.
You can also select a portion of the whole vocabulary to create it around a specific type of Entity or around a specific category:
Type of entity: you will have a page that lists all the

 

Things, Creative Works, Places, Events, Persons,

 

Local Businesses

 

and

 

Organizations that are entities on your website
Category: you will have a page that lists all the entities under a specific category of your choice. This option is available from WordLift 3.18. ?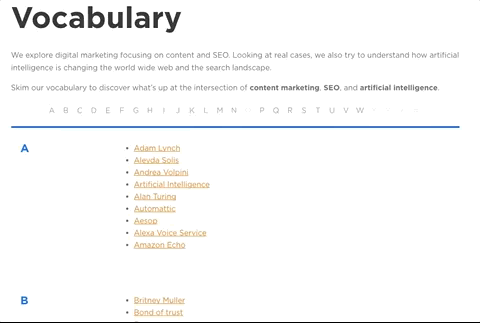 Showcase your events on the SERP
We have added to your events two more schema.org properties: offers and performers.
The property Offer

 

allows you to add the price of the tickets for your event. If you have different offers going on, you can add all of them.
The property Performer allows you to tell search engines who is speaking at your event. Needless to say, you can add as many performers as you need.
WordLift now speaks Bulgarian ??
Thanks to the commitment of the WordPress community during the international WordPress Translation Day our plugin is now available also in Bulgarian. ?
Very special thanks go to Stanimir Stoyanov, one of the developers of the WordLift team and a proud hyperactive member of the WordPress Community, who helped us to achieve this goal. ?
Compatibility with PHP
WordLift 3.18 is compatible with PHP 7.2.
Take this, creepy bug!
We take very seriously our fight against bugs and, even with this release, we made a few creepy victims. ???