Food
Yummy recipes look yummier on the SERP if they have a rich snippet. Recipe snippets include images, reviews, cooking times, ingredients and much more. Besides helping your recipe get a rich snippet and therefore a higher CTR, your structured data will also help Google read the details of your recipe and serve it to the right searcher understanding if it's dairy free or not, how many eggs are needed and stuff like that.
Let's see how it works.
Recipes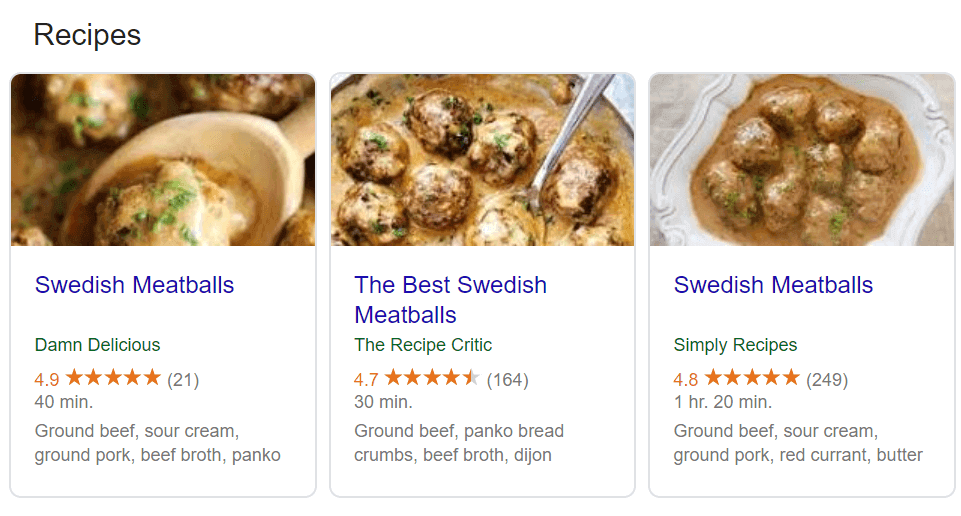 Recipe rich snippets are rich results that include both text and a list of items to be eaten. In recipes, the TAB key is used to list the items to be eaten.
To increase the CTRs of your recipe listings, you should update the database with the latest information regarding their availability. In most cases, this will require contacting the previous owners of the recipes. If you find yourself in a position where your recipe listings are not very popular, you can always try to add more information to the database, which could lead to a higher CTR.
In some cases, the content within a recipe can be more valuable than the search result, so seek out opportunities where your content can provide value to the user. For example, place a special order for fresh ingredients or make special dietary adjustments.
Structured Data and Recipes
The ItemList schema markup is crucial to appear in host-specific links or carousels. You can use the markup to add details about the name, cuisine type, and other information related to your recipe. The Recipe markup is also useful for adding more specific information to your recipe that can be used in combination with HowTo and PAA rich snippets. The full definition of ItemList and Recipe can be found at Schema.