E-commerce, Marketplace, and Online Business
By 2023, eCommerce retail purchases are expected to rise from 14.1% to 22%. The number of people buying goods online has increased, and will continue to do so.
Considering this, it is going to be more and more important for retailers to optimize on their online visibility of products and drive more revenue. Rich snippets not only allow the brand to control the product information but they also give you the opportunity to stand out to people who are already looking for your product/service.
For an e-commerce, shopping panels and ratings on Google's SERP can make the difference in terms of selling the goods or not. In this context, it's essential to learn how to get your spot on Google Shopping and structured data can help you with this: learn which other types of rich result can help and how in the following paragraphs.
Shopping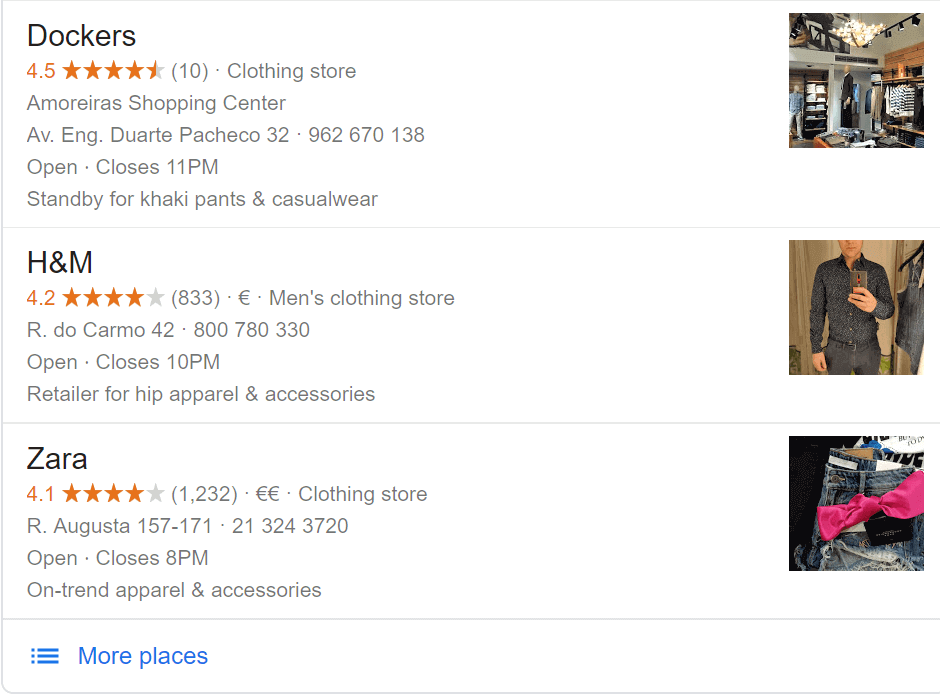 Shopping panels are rich snippets that contain information related to a product, business, or store. They include information such as reviews, addresses, hours of operation, etc. Remember, these are primarily paid listings, so you'll want to ensure that you keep listings active and relevant. Also, make sure you answer any and all questions that come your way.
You should have a product page with product information, pricing, availability, security deposit and review details. You can also use the required structured data markup and gain rich results, such as local products. Shopping results on mobile still needs to be optimised, but overall site SEO should be a key for all online retailers.
It's easy to optimize your products and services into Google Merchant centre. All you have to do is to add your products and services to your Google Merchant profile and link them to your store.
Structured Data and Shopping
Using the Product schema markup will help categorize and provide information and structured data to your website. The full definition of Product can be found at Schema.
Ratings and Reviews

Reviews and Ratings provide a qualitative description of your business, product or website. The Review property describes information about a review, such as the reviewer name, the date of the review, the length of the review, and the number of ratings. Users must have read reviews or ratings in places (schemas) that are search-engine results pages. Implementation involves preparing a page that contains a review of a product and then add the required markup. Reviews or ratings in schemas must meet the following criteria:
Reviews must be genuine.

Critic reviews or ratings should be genuine, not paid endorsements or promotional phrases.

Promotional phrases and/or images must not be found in critic reviews or ratings.

The aggregate score for all four critic reviews or ratings should not exceed the rated score.
The pros of reviewing a product on a Google SERP are obvious: it increases your CTRs and searches. Reviews also bring traffic to your website, increase conversions and find plenty of satisfied customers. The downside is that if you are a marketer, you need to be on your website reviewing products to stay competitive. Reviews on a Google SERP can cost you up to 5% of your website rankings.
The objective of the review is to give an honest and unbiased evaluation of a product, not to give a recommendation. Moreover, Google doesn't want your negative reviews to creep up the page, so you shouldn't include them.
Structured Data and Reviews
Note that Reviews are a structured data dependent feature which uses the Review schema markup. The full definition of Review is available at Schema.
Knowledge Panel > Brand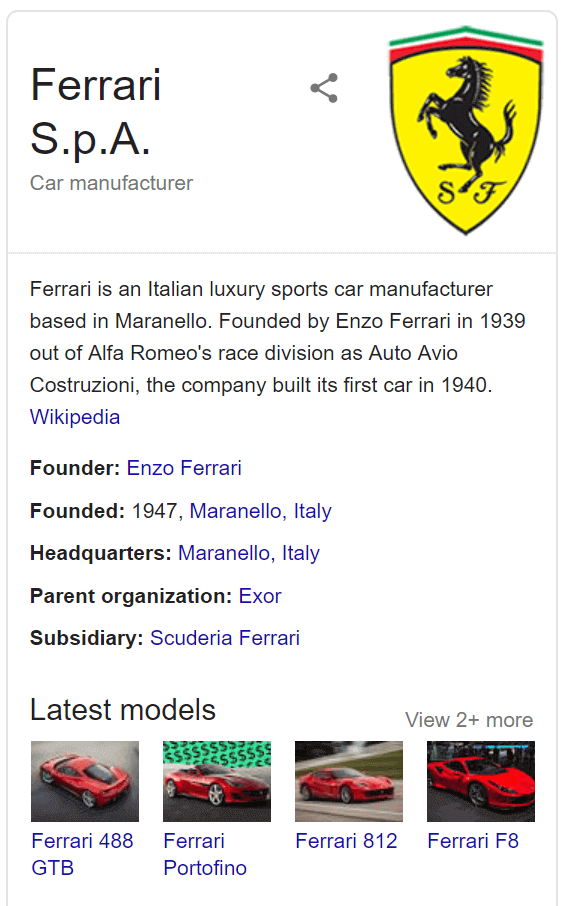 A knowledge panel for a brand, company or product can provide a brief description and important information related to the product. The descriptions are most often pulled from Wikipedia.org, so you may want to update a wikipedia page for your brand.
Along with a description, other information can include: important people, founding year, type of product/service, related items and even fun facts about the company/brand. Make sure your content is up to date, of course, and that you carefully select which keywords are used.
Structured Data and Knowledge Panel for Brand
Brand structured data markup allows your website to appear in Google's relevant search results for your organization. The Search box appears mainly on desktop search results; however, it can be found also at the top of results in mobile results. The major benefit here is visibility – it offers a thorough overview of your website right on the results page (and often obscures ads that would otherwise appear in its place).
Sitelinks and Jump-to
Google Search can expose a Search box scoped to your website when it appears in the search results. This search box is powered by Google Search. However, if you wish to power this search box with your own search engine. If you want search results also include an associated mobile app, you can do so using structured data embedded on your website.
Structured Data with Sitelinks and Jump-to
Use the WebSite schema markup to provide structured data for the search box. This can be done with your website or app. The full definition of WebSite can be found at Schema.