News Publishing
The very first organic results page sees a traffic of about 32.5% while the 2nd page sees only 17.6%. These statistics bring to light the necessity of having a website display on the first results page. The carousel is often the first display that comes up when people are looking for something that is in the news. News websites and podcasts can greatly optimize their search engine presence by curating the content specifically for the news carousel and for the sport knowledge card.
In order to increase the click through rate through a carousel, news sites must ensure that their platform uses structured data as recommended by Google. An easy- to-understand explanation of the different features that can be used to achieve better results is given in the following paragraphs.
News Packs and Carousel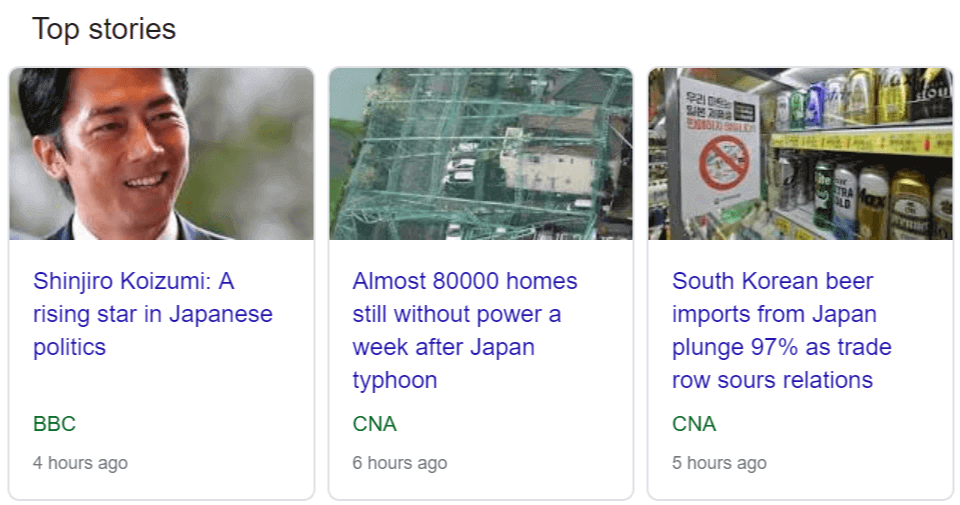 Google Search can provide a carousel of rich results. In some cases, this content is delivered in AMP (Accelerated Mobile Pages) format, which is able to download and process data quickly.
Create and include excellent web pages addressing specific keywords and optimize your site for mobile search and for each targeted intent. Use your website's keywords strategically, in SERPs that have higher KPI's. The News Carousel appears for search queries like "To Kill a Mockingbird" or "The story of Oskar Werner". It consists of up to nine links related to a specific topic.
The News Packs are an expanded pack of all the major news sources into one big picture box. This results in a cleaner layout in Google Search results. To increase the CTRs of your news article, you should update your website with high-quality content and follow the guidelines to get into Top Stories.
Structured Data and Google News
To increase the chances of being pulled into the News feed, it's recommended to follow general best practices for news reporting. In addition, news sites should have robust online presence and be actively engaged with Google's search algorithm and Google News content guidelines. In addition, using the ListItem schema markup to add structured data to your news content. The full definition of ListItem is available at Schema.
Knowledge Cards > Sports
Knowledge cards for sports are cards displayed on the SERP that displays information related to current and future games featuring a specific team. These cards link to additional information related to games, news, players, and how the teams stand. This generally applies to more professional sports teams and leagues as opposed to minor teams.
Structured Data and Knowledge Cards about Sports
Structured data relevance for the Knowledge Cards about Sports has not being documented by Google or suggested by anyone else for the moment being. Still, structured data may help Google better understand and classify your content in order to include it.
Podcasts

A podcast carousel is a rich snippet that features different podcast shows or episodes To increase the chances of being pulled into the Podcast search box, it's recommended to follow general best practices for podcast SEO. That means including the target keywords in the content, optimizing the audio quality, and the RSS feed for the podcast in addition to using the proper structured data markup. In the case of news articles, Google may display the episode in its carousel.
Structured Data and Podcasts
The RSS feed must conform to the RSS 2.0 specification and should contain the necessary tags and information. If you want your podcast to be featured in a carousel, make sure to use the ListItem schema markup.
AMP
Accelerated Mobile Pages (AMP) results, also called AMP highlights, are an expanded pack of all the necessary website's pages on your website that are now enhanced with interactive features. Responsive web design is preferred over classic SEO because it allows users to reach your website faster on mobile devices.
These results include the full-width page that contains your page information. In fact, the result might display up to the page's width and height.
Structured Data and AMP
In this case, specific structured data is not required, but AMPs are powerful if they include structured data. Read more if you want to optimize your AMP pages with schema.org markup.