Retail Business
In continuation of the retail apocalypse, which started in 2010, it is further expected that around 14000 stores will close by the end of 2020. While e-commerce is the main cause of this, online marketplaces such as Amazon have still been able to expand from online to retail stores. Through these dynamic changes taking place, we know that particularly retail businesses need to consider methods to have a legitimate online presence in order to stay relevant in the future.
This allows the consumers to reach the most reliable information and spread digital awareness of their business. Some options to further boost the search optimization might include creating a google profile, displaying a critical review and adding it to the local business listing. Continue reading to learn about the different ways in which you can achieve this.
Google My Business
Google My Business is a free service provided by Google that allows you to manage your business profile and information across Google's platforms, particularly Google Maps. Google My Business also enables a business owner to directly connect with their clients and potential customers using Google's services.
Structured Data and Google My Business
Structured Data is not relevant or useful for Google My Business, as this information is created and accessed through a Google account using Google My Business rather than from your website. It is nonetheless essential for any business seeking to increase their online and mobile presence.
Critic Reviews
A critic review is a snippet of a much longer, more detailed review of a product, movie, book, or local business. They differ from the standard review rich snippets in that critic reviews focus on one or a few individual reviews of a business rather than the overall rating of a business by several, public reviews. An example of a critic review can be seen below for 230 Fifth Rooftop Bar in New York City.
It's important to keep several things in mind when implementing critic review rich snippets:
Critic reviews must be genuine and cannot be auto-generated, written by the business, and must be an excerpt from a longer review. There cannot be any commercial agreements (paid or otherwise) between the critic and business.

Reviews cannot exceed 200 characters.

No third-party or syndicated reviews will be allowed, only those directly produced by your site are permissible.

Reviews on the website must allow customers to express positive or negative opinions and cannot be vetted by the business based on its verdict.
Structured Data and Critic Reviews
To add critic reviews, use the required structured data markup using the Review schema markup. The full definition of Review can be found at Schema.
Local Business Listing
A listing for a local business provides information for the knowledge graph and rich results on the SERP. Using a local business listing, you can provide information about things like: business hours, different departments within your business, reviews, contact information and more. You can also use a listing to provide ways for users to make reservations, payments and other actions. This can be done for a variety of businesses from restaurants to travel agencies.
Structured Data and Local Business Listings
For local business listings, structured data is required for rich snippets as they can be useful in providing information to search engines and viewers alike. The LocalBusiness markup on Schema can be particularly useful and there are also a variety of other markups for differing types of businesses. These can include markups such as AnimalShelter, Dentist, Store, HomeAndConstructionBusiness, and many others. The full definition of LocalBusiness and the full list of business type markups can be found on Schema.
FAQ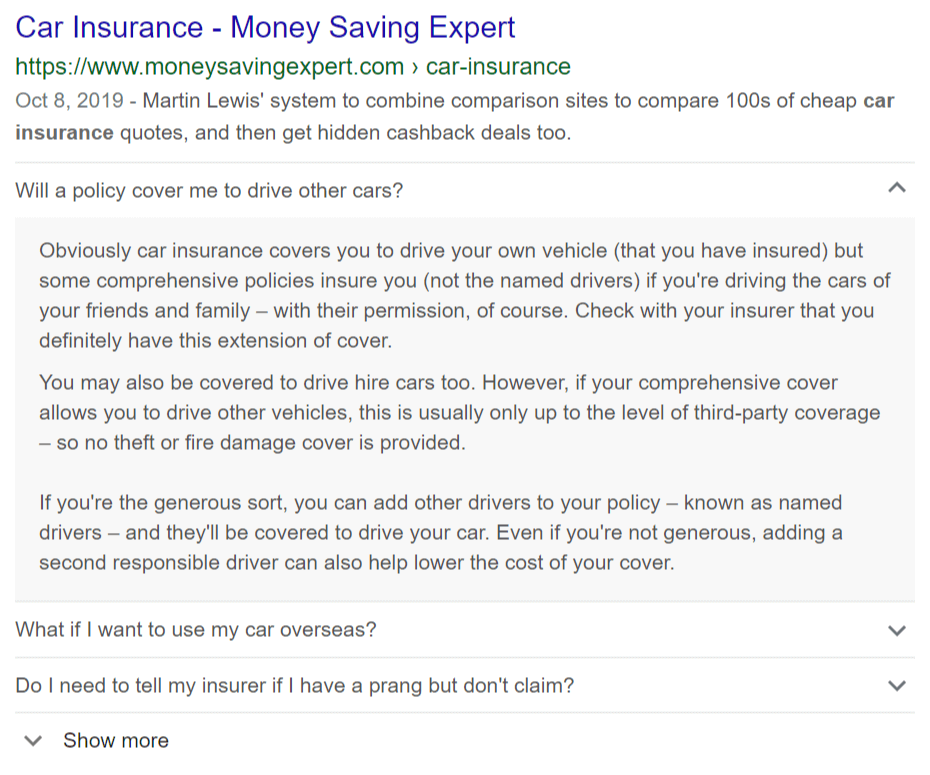 An FAQ rich snippet can be particularly useful for a local business providing a product or service that people frequently have questions about. If you don't have an FAQ page and many customers come to you with questions about the service you provide, consider adding an FAQ page to your website. If you already have an FAQ page, you may be interested in gaining an FAQ featured snippet on the Google SERP.
Structured Data and FAQs
To get an FAQ snippet on the SERP, you will need to use the FAQPage structured data. Please make sure that the entirety of the text in both each Question and Answer are included as the entire question and answer may be displayed. The full definition of FAQPage can be found on Schema.