WordLift, Redlink GmbH, SalzburgerLand Tourismus GmbH and the Department of Computer Science of the University of Innsbruck teamed up under the WordLift Next Generation project to develop a new platform to deliver Agentive SEO technology to any website. The work started in February and will last for 36 months.
We are pleased to announce that together with our partners Redlink GmbH, SalzburgerLand Tourismus GmbH and the Semantic Technology Institute at the University of Innsbruck, Austria, we have received funding support from EU to develop a new technology that will be available for any Content Management System.
The project, called WordLift Next Generation, will be developed with the financial support received from Eurostars H2020, a program promoted by the European Union that supports research activities and innovative SMEs. WordLift NG is part of a financing plan allocated by the EU to make European companies more competitive through AI tools at the service of businesses and people.
As our CEO Andrea Volpini stated recently, "Artificial Intelligence is shaping the online world with huge investments from GAFAM (Google, Apple, Facebook, Amazon e Microsoft). Our company successfully brought these technologies to mid/small size content owners, SMEs and news publishers worldwide using WordPress. It's time to expand outside of the WordPress ecosystem while adding new services such as semantic search, improved content recommendations and conversational UIs for the Google Assistant and Alexa to help this market segment remain competitive."
WordLift automates and streamlines the technical processes required to make a website discoverable through search engines and personal digital assistant; we have been first to market a Knowledge Graph optimized for SEO, combining semantic annotations with information publicly available as linked open data.
With WordLift NG, the consortium plans to improve the way in which our software understands web articles and builds knowledge bases, employing semantic technology. With a more powerful knowledge graph, it will be possible to fully decouple WordLift from WordPress to make this technology available to any website worldwide. The consortium also aims to improve the quality of the content recommendations and to bring an engaging semantic search experience. Last but not least, as the knowledge base behind each website will improve, it will be possible to enable conversational experiences over Google Assistant and Alexa (focus will be on news and media and hospitality sector).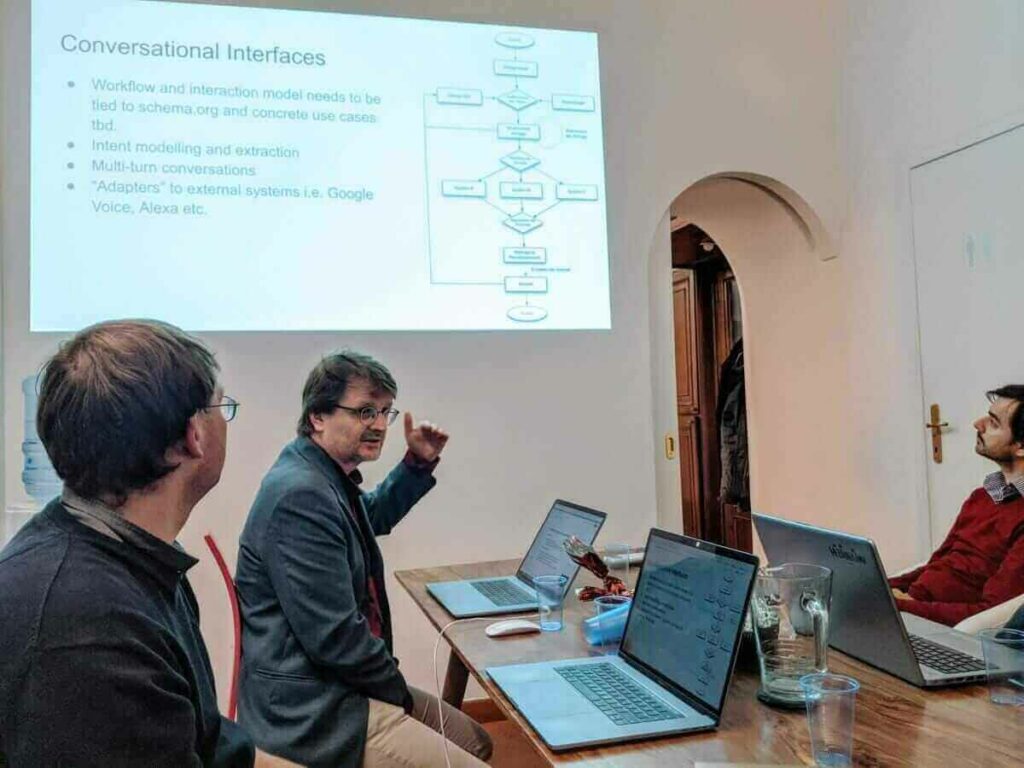 To achieve these ambitious goals, we have teamed with leading organizations in Europe in the field of AI, NLP and Semantic Technologies and tourismus: Redlink GmbH (led by Andreas Gruber CEO of the company), the Semantic Technology Institute at the Department of Computer Science of the University of Innsbruck (under the supervision of Ass.-Prof. Dr. Anna Fensel) and, SalzburgerLand Tourismus GmbH (with Martin Reichhart, Innovation Manager as coordinator).
Thanks to the EU funded project and the collaboration between Italy and Austria, WordLift NG will democratize the usage of agentive SEO, developing a complete new technology stack to help businesses around the world remain competitive in the ever-changing search and digital marketing landscape. The project has officially started on February 1, 2020, and will be completed in 36 months.