Imagine your online shopping experience.
In the past, customers would browse endlessly to find a product that they like. They scour customer testimonials, product information and referrals to assess their purchasing decision. If they have more questions, then they would schedule a live chat or online call with customer service.
Today, chatbots are expected to automate these processes. Unlike conversing with customer support staff, chatbots can communicate through a conversational messaging interface.
It works by letting users choose and tap several options. They can ask for product recommendations, make requests and receive personalized responses from a bot powered by AI.
For instance, eBay's chatbot lets customers send details of the products that they're looking for like "women's hiking shoes under $75". In return, they receive recommendations with their ideal prices and shoe size.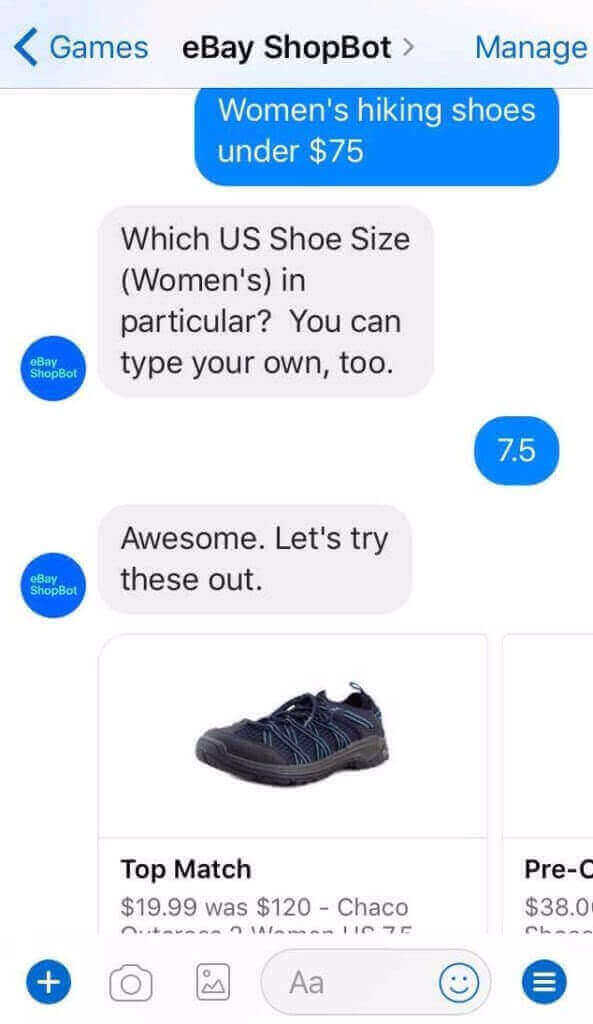 …and the bot can guide customers along the purchasing process too. It's designed to collect information on a customer's needs and intent, so they can seamlessly move across the sales funnel.
Benefits of Chatbots
Still not convinced? Let's take a look at some of the benefits of leveraging chatbot solutions.
Faster Service
The shift to chatbots is part of an attempt to meet customer demands. As brands grow their customer base, support teams struggle to resolve every complaint and respond to every query.
In contrast, chatbots can communicate with hundreds of customers at the same time and work 24/7 to boot. Hence, customers can shop conveniently through their smartphones and tablets.
According to Hubspot, 71% of customers use messaging apps to get in touch with customer service so their problems are resolved fast. Additionally, 90% of businesses also claim quicker complaint resolution through chatbots.
Non-Intrusive
You've probably heard this benefit parroted by marketers and businesses who have reaped the benefits from chatbot automation.
Compared to email marketing and social media marketing, chatbots are a non-intrusive means of communicating with customers. The users initiate the conversation with chatbots, not the other way around. Customers can also control whether or not they'll receive brand-related messages. If they don't want to continue communication, they can mute the conversation.
Gain Customer Insights
By asking questions and assessing shopping behavior, chatbots can generate personalized product offerings for their customers. They can determine the products to upsell, redevelop and market based on a user's data. It's eerily similar to communicating with a staff that knows all your likes, dislikes and preferences.
How Chatbots Can Improve User Experience
Chatbots can significantly boost a businesses' user experience by providing faster and personalized service.
How can your business leverage chatbots? Here's a list of companies that have upgraded their sales funnel through chatbots.
1. Sephora
Sephora maintains its status as a leading beauty brand by being an early adopter of chatbots.
Let's take a look at the several bots they've launched in recent years:
Sephora Reservation Assistant
The company launched the Sephora Reservation Assistant—an appointment booking bot for scheduling makeovers at Sephora stores. Users can specify their desired services, determine potential dates, and find the nearest in-store outlet. Rather than hiring an employee for the job, a chatbot is a cost-effective means of providing service to customers.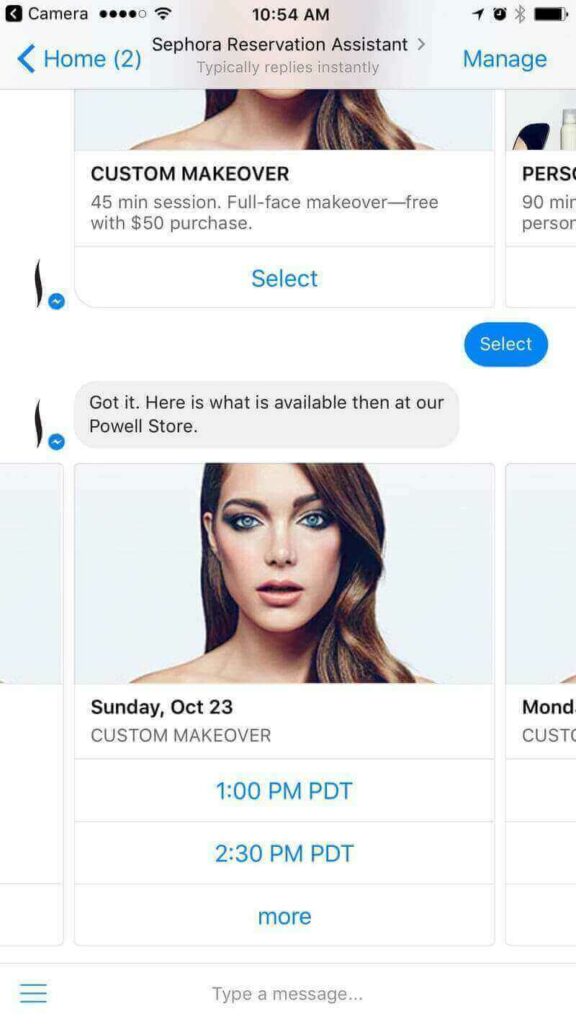 Sephora Virtual Artist
Sephora Virtual Artist is a groundbreaking app that offers 3D live product experiences for users.
Fashionistas can try products virtually and find the perfect shade with a few taps on their smartphones. Some looks are created by Sephora experts so you can get inspiration for your future look. Plus, there are beauty tips and tricks users can learn to look their best while wearing Sephora's products.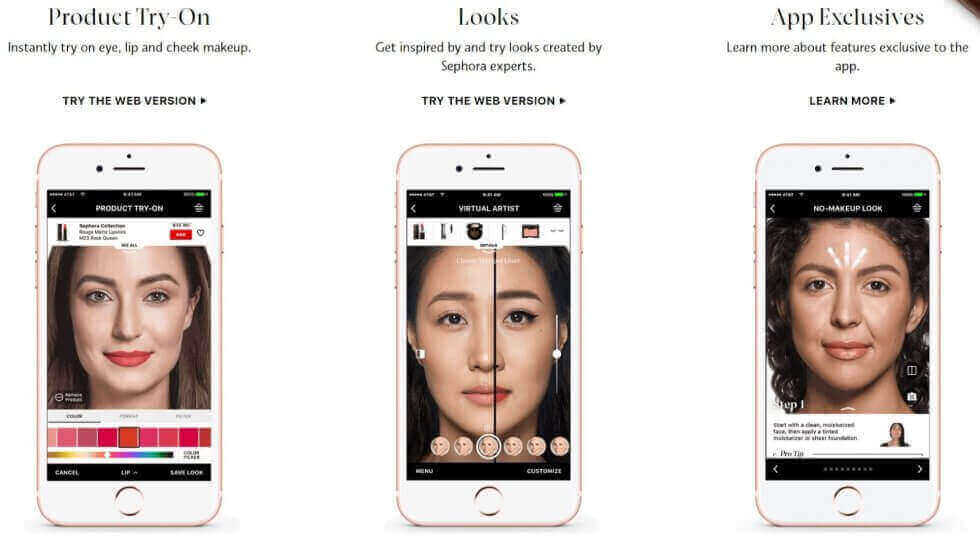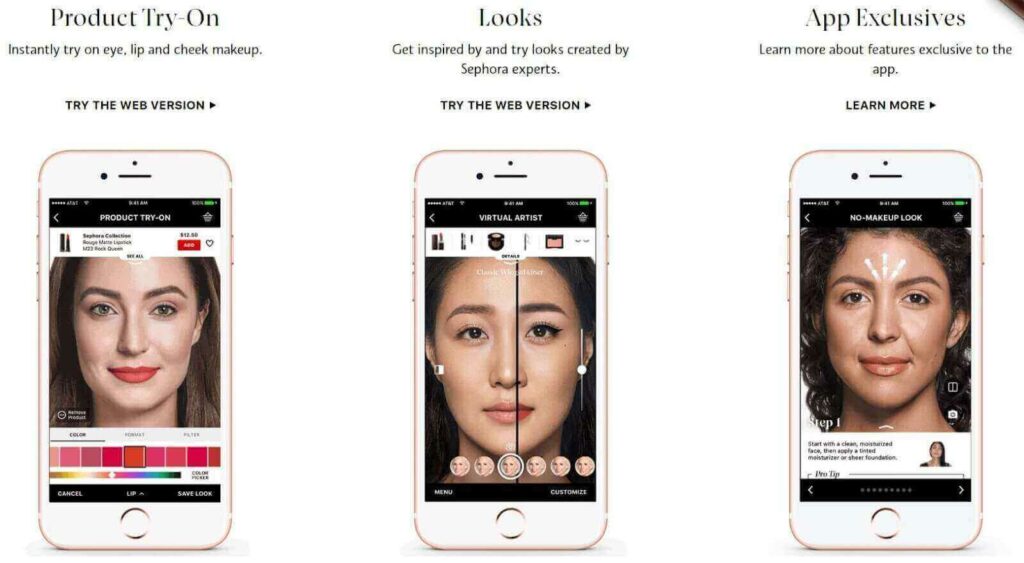 Kik Bot
The popular Kik platform on Sephora offers make-up tips, style inspiration, custom content and how-to videos aimed at teens and young adults.
To become relevant for their consumers, Sephora collaborated with Helen Phillips—a Sephora Collection National Artist—to create prom makeup tutorials and conduct Q&A sessions. The community submitted a total of 1,500 questions featuring tips on covering their acne and maintaining their look during the dance. Not surprisingly, the campaign got more than 600,000 Kik bot interactions and 132,000 views per month on Sephora's Facebook Live.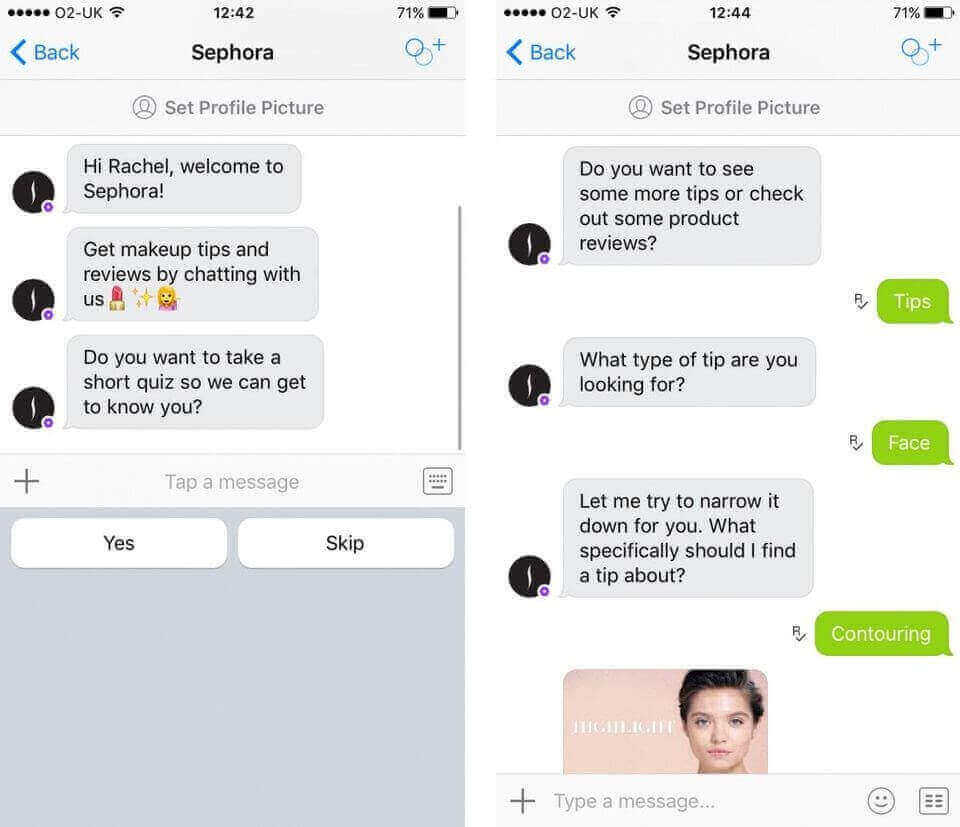 2. HelloFresh
HelloFresh is the largest meal kit delivery service in the United States.
Prior to adopting a chatbot solution, their customer support team struggled with a large number of customer messages. Each member took six to twelve hours to help users resolve their issues.
The solution? Freddy – the HelloFresh chatbot – was born.
Freddy is a convenient tool for addressing inquiries and cutting wait times. The bot can determine a customer's intent and attempt to resolve their issues, before contacting a customer support representative.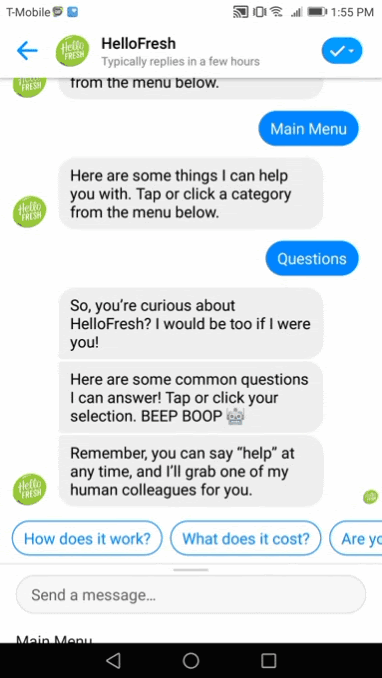 In recent years, Freddy's responsibilities have expanded to include:
Providing HelloFresh blog content and news;
Providing Spotify playlist recommendations so customers can enjoy good music while cooking;
Offering reminders so customers can remember their weekly food orders;
Reaching out via messenger to online users that commented on their Facebook page; and
Engaging users through breakfast quizzes to promote HelloFresh products.
In 2018, HelloFresh had an average response time of 5 hours. In 2019, this dramatically decreased to 1 hour and 11 minutes in spite of a 47% boost in messages! Freddy also achieved a 56% chatbot conversion rate which means more sales for their business.
3. Aerie by American Eagle
Aerie—a sub-brand of American Eagle Outfitters—offers lingerie, swimsuits, and apparel for women. The brand owns a Facebook Messenger Bot aimed for its Gen Z target customers.
The bot finds users' needs with a simple 'this or that' game. From the start, users can choose from two product images, and their answers enable the bot to determine their body type and needs. After choosing from several options, the bot can deliver personalized products tailored to their personal style. They can even shop based on an occasion like date nights and hangouts.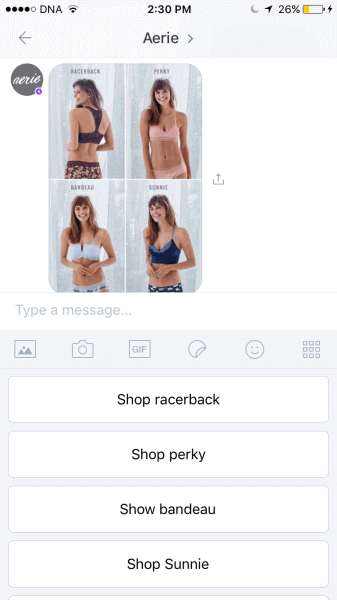 What makes Aerie stand out from other online retailers, is that customers can shop with an image in mind. All they need to do is snap a pic with their camera. In return, they'll get similar styles from the brand. If customers find an item in-store, Aerie's chatbot can also suggest additional products so they can build an outfit.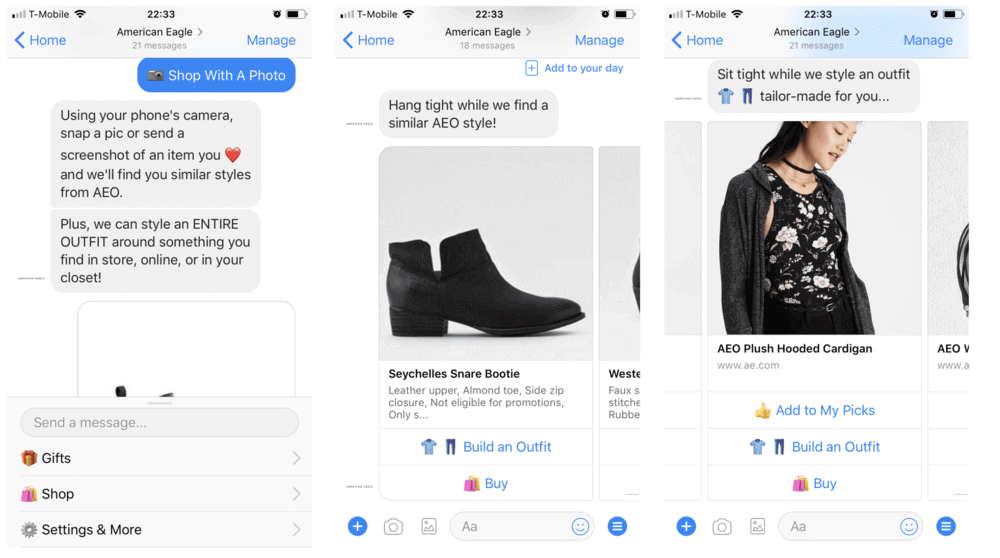 Aerie's early adoption of chatbots paid off. Their business gained more than double the average number of monthly users across the brand's social media channels.
4. Booking.com
Booking.com is a metasearch engine for hotels and accommodations.
They launched a Booking Messages interface which enabled accommodation providers to communicate with customers through an app and web-based chatbot.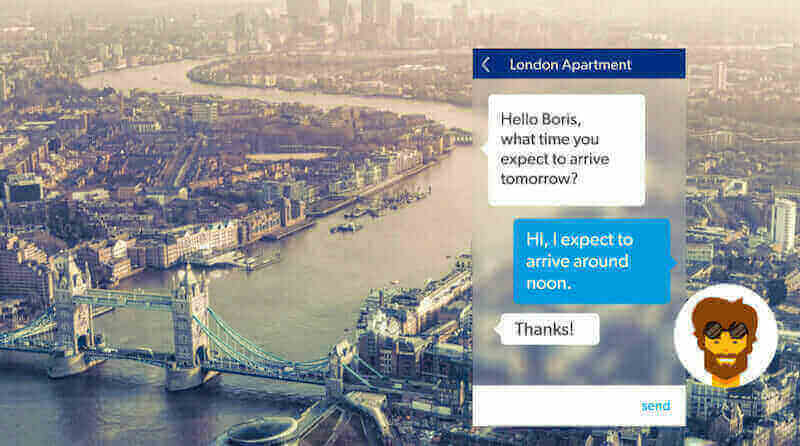 Right from the start, the bot connects users with hotel and accommodation staff.
There's no need to micromanage interested tourists because the bot comes with pre-translated templates and predefined requests so users can make requests and reservations with just a few taps. The chatbot can also manage inquiries related to payment, check-in and check-out times, bed preferences, parking preferences, date adjustments, and WiFi availability.
For example, users making a booking request can receive a confirmation text from messenger to verify the transaction. Users can easily communicate with the bot to address their inquiries before, during and after their stay.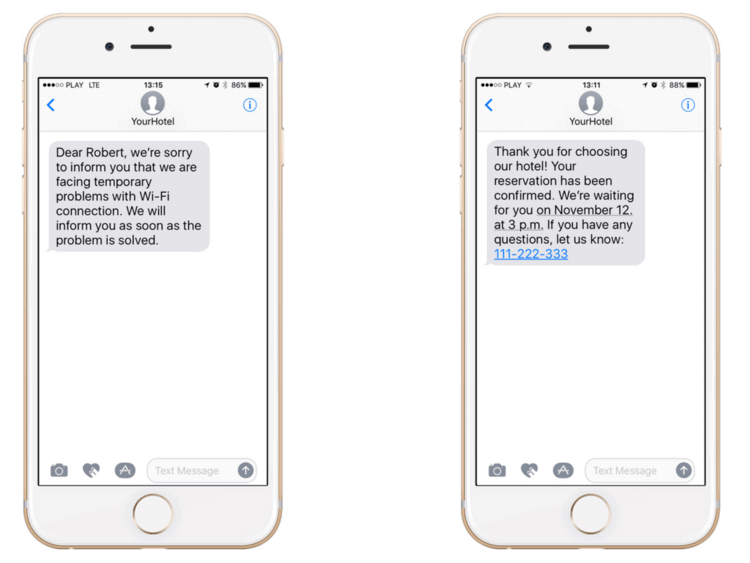 Unlike most companies, this chatbot was developed in-house. The team claims that their bot can handle 50% of a customers' post-booking accommodation inquiries.
5. Amtrak
Amtrak is one of the largest passenger railroad services in the United States.
By launching their "Ask Julie" chatbot and virtual assistant, the company saved $1 million on customer service.
Julie is an advanced chatbot that can answer customer queries through natural language so it feels like you're communicating with another person. If you have questions regarding your booking, the chatbot can quickly provide answers and relevant information.
According to Amtrak's website, here's a list of services that Julie can provide:
Planning a vacation
Navigating Amtrak.com
Amtrak Guest Rewards program
Booking reservations
Station and route information
Frequently Asked Questions
Policies
While Julie has so many responsibilities, it can answer an average of 50,000 calls per day and about 20 million calls per year. These capabilities are nothing compared to a human employee.
As a result, Amtrak was able to increase their booking rate by 25% and boost user engagement by 50%. Interestingly, bookings made via Julie led to more than 30% of revenue as compared to bookings made through other platforms.
Conclusion
Chatbots can significantly improve the user experience of customers.
They can be automated to provide customers with answers, personalized recommendations, and relevant advice for every issue that could pop up. This fast and efficient response eventually leads to more conversions in the long-run.
We hope that the tips in this article inspired you to jump in the bandwagon and launch your own chatbot.
How will your business use chatbots to improve the customer experience? Let us know in the comments below.
---
Emil Kristensen is the CMO and co-founder of Sleeknote: a company that helps e-commerce brands engage their site visitors—without hurting the user experience.