Elzie Crisler "E.C. " Segar (December 8, 1894 – October 13, 1938) was an American cartoonist, best known as the creator of Popeye, a character who first appeared in 1929 in Crisler's comic strip Thimble Theatre.
He's a classic of the 1920s and 1930s who became immortal for the creation of the Sailor Man cartoon fictional character of Popeye.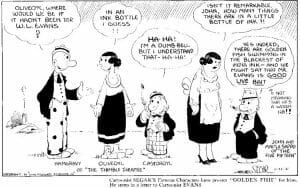 Born and raised in Chester, Illinois, a town on the Mississippi River, he died quite young at the age of 43 and his longtime assistant and friend, Bud Sagendorf, took over the work on the Popeye strip.