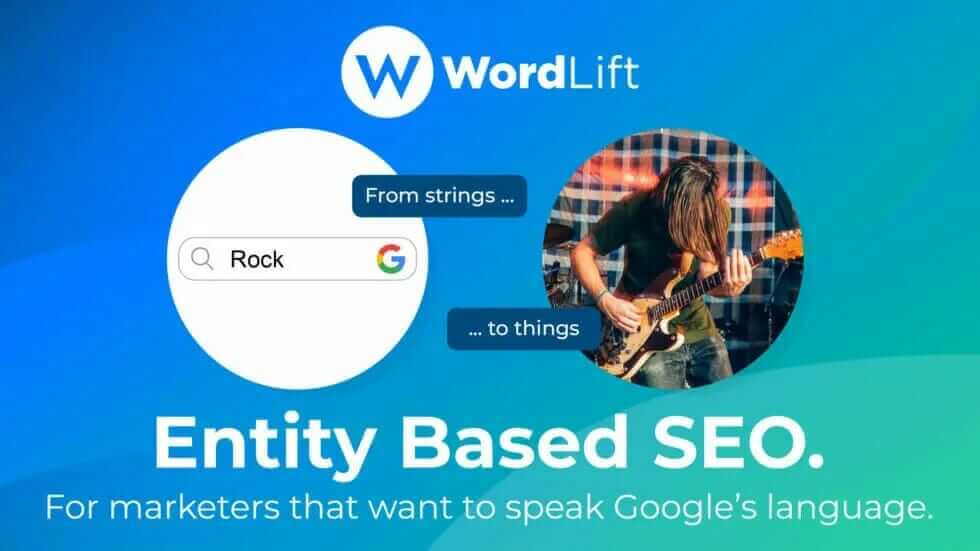 Table of content:
What is SEO Add-On for Google Sheets?
What is the difference with WordLift?
What is SEO Add-On for Google Sheets?
SEO Add-on for Google Sheets™ by WordLift is the extension that lets you gain an edge over your competitors through semantic keyword research and entity analysis.
Starting with entity extraction, you can determine if the content contains the appropriate semantic annotation and relevant entities to improve your ranking on Google.
In a few clicks, you can analyze the entities behind a search query and the entities behind a web page (whether it's your page or a competitor's) and develop a semantic content strategy that determines which entities can enrich your content and beat the competition.
The Entity Analysis is straightforward and supports hundreds of languages with many different alphabets (any language natively supported by WikiData).
It includes:
The list of entities with links to DBpedia or WiKidata,
The confidence level of each entity (a value from 0 to 1 that takes into account factors such as thematic relevance and contextual ambiguity),
The ranking of the entities in the SERP (this data is obtained during the analysis of the entities to which a query refers),
The number of occurrences in the text (i.e., how often the entity appears in the mentioned content).
You can select the most relevant entities, and the SEO Add-on will automatically create the JSON-LD for you!
To know which search queries you should boost, you can connect the SEO add-on to your Google Search Console and sort the analysis based on your traffic data. Here you will also find a column with the "Opportunity Score", which suggests which search queries you should target to choose the best ones for your content.
Learn how to use the SEO Add-on for Google Sheets, watching this demo👇
What is the difference with WordLift?
"Things, not strings"

Amit Singhal, Google SVP of Engineering, 2012
This is the Semantic Web.
Entities that stand for an idea, concept, person, or place, are the real star of Semantic SEO. Google and the search engines are using more and more entities to figure out how to rank websites and web pages. 
Therefore, keyword research is no longer enough. This is where our SEO add-on comes into play. With a few simple clicks, you can analyze and compare entities either by search queries or URLs or both and find the ones that are really relevant for your website to get a better search engine ranking.
Indeed, once you have identified the entities most relevant to your business, you can copy and paste the JSON-LD into your website to speak Google's language and see your organic traffic grow.
If you are already using WordLift, you can analyze the entities and compare the entities annotated in your content with the entities that rank for the search query, as well as those of competitors, and then figure out how to optimize the content to rank better on Google.
WordLift is an AI-powered SEO tool that analyzes your content, identifies the most relevant concepts for your business, and allows you to insert semantic markup without needing any technical knowledge. These relevant concepts are the entities and are collected in a vocabulary. By relating the entities to each other, you can build the Knowledge Graph. It's the infrastructure behind your website that allows Google and search engines to understand what you are talking about, and to see the relationships between pages and content, and their value.
This way, your website will rank better and get more organic traffic. Not only that, but users searching for products, services, or businesses like yours will find information that is more relevant and they will spend more time on your website and you can increase the conversion rate.
SEO Add-ons for Google Sheets™ and WordLift plugins are different, but they can work together to automate your SEO and save you more time, energy, and even money.
When you use the SEO Add-on together with WordLift, you can analyze entities and optimize your content so that Google and the search engines understand what you are talking about, and you get better rankings and more organic traffic to your website.
So, to sum up, what are the benefits of using the SEO Add-on for Google Sheets™?
Understand how to rank for a specific search query;
Learn how to optimize the ranking of your favorite content;
Compare a glance entity between competing URLs, search queries, or both;
Analyze the semantic spectrum you need to cover a specific topic.
The SEO Add-ons for Google Sheets™ is included in the Business+E-commerce plan. Or you can purchase it separated on StackSocial. If you buy the Add-On and want to add WordLift to your SEO tools, you'll get a special discount. To learn more, talk to our team of experts.